12V electric air conditioner for van shipped to customer
Author:Corun Date:2021/02/03
20 sets 12V electric air conditioner for van are ready to be shipped to customer.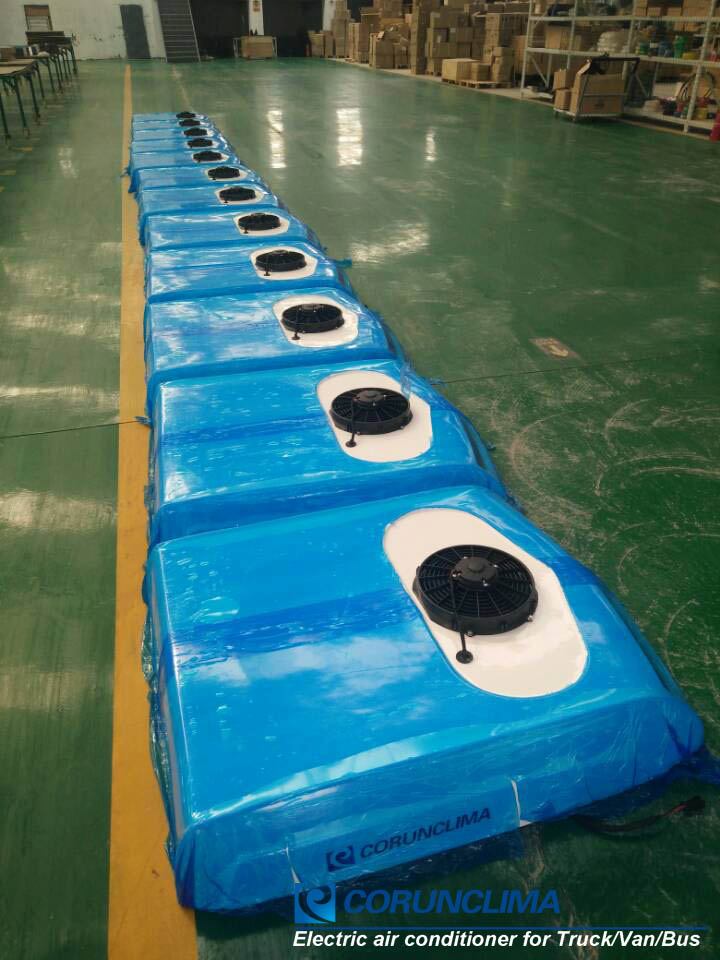 | | |
| --- | --- |
| Model | AC60TB |
| Cooling Capacity | 8.5kw/29,000BTU |
| Voltage | DC12V/24V |
| Controller | Digital/Manual |
| Installation | Monoblock all roof top mounted |
| Application | Electric Van, Midsize Van, Minibus |
Electric air conditioner for van is new Green technology. No need engine driven compressor. Easy installation, no noise, Zero Emission.
This DC series air conditioner is driven by DC12V/DC24V directly (Alternator or Battery). All system (Compressor, Fan, Blower etc) are DC12V/DC24V electrical.
Engine drive alternator, the alternator drive the whole a/c system or alternator charge battery and battery drive the whole a/c system.
Advantage of electric van air conditioner
1.Installation is so easy.
1.1 No need install compressor
1.2 No need install air duct
1.3 No need charge refrigerant gas (fully charged R134A in factory)
2-3 hours is enough for one van.
2. Continuous Cooling when Engine-Off. ( when Van parking or Waiting)
3. Quiet. No compressor Noise.
4. Save Engine Power. No power consumption for compressor.
From the year 2006, we start design, manufacture, and export the Full Electric A/C units. We already own the key technology of the Full Electric A/C units for engineering vehicle.
If you are interested in our products or want to be our dealer, please feel free to contact us. info@corunclima.com
TAG:&nbsp&nbspelectric air conditioner for van, electric air conditioner for van