All Electric Transport Refrigeration Unit C350TB for Mercedes Sprinter
Author:Corunclima Date:2017/09/11
It has been a while since our last contact with Mr. Andrew, our partner in North America for his holiday to Europe. Why we so expectedly to hear from him is that the main business of all electric transport refrigeration unit for van is in most developed countries. The customers there have higher requirement for freshness of food and beverage as well as strict policy about eco-friendly of all electric appliances. This may cost more time and energy for manufacturers of electric appliances, but for us, it is also a good test platform and opportunity for us to continuously improve performance of our all electric transport refrigeration unit. As a previous engineer and sales man of Carrier Transicold, Mr. Andrew is experienced in the industry and products and what he feedbacks and refers to us is always what we valued.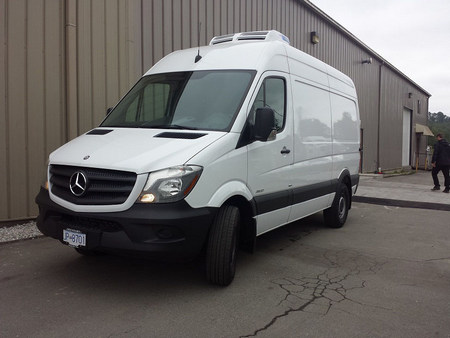 Good news is that he just back from holiday and update a new case for us. This time is a Mercedes Sprinter reefer van. This type of van is quite common in urban and suburban areas either hauling people or cargo, so Sprinter is a really jack-of-all-trades. Except its functionality and practicality, its popularity in loading cargo in some degree decided by its uniquely BlueEFFICIENCY package of eco tweaks. And this technology will be great in frequent stop-start situations in urban transportation. It will help to cut the engine when selecting netural and the van is stopped, when the clutch depressed or optionally lift off the brake pedal in automatic moedels, the van will be restarted. The van will help driver to maximum reduce fuel cost.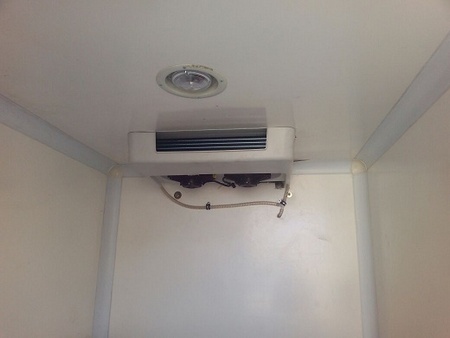 The customer comes to Mr. Andrew for retrofit of his previous engine-driven type transport refrigeration unit. It is neither able to control operational noise (such problem will be much serious in morning delivery) nor keep on cooling when shut off the engine. Such problem has been barely intolerable for the customer.
Cargo volume is about 10.5m³,as for required temperature is around -2-0℃ and ambient is around 30℃ (most time it's lower than that), so Mr. Andrew recommends electric van refrigeration unit C350TB in full consideration of cost-efficiency and reliable performance to reach such simple cooling needs. And original alternator current output is 200amp and battery is 12V 95Ah, these factors decides C350TB is compatible for the reefer van as well as sufficient continuous cooling operation during cargo loading and unloading without engine on.
* Alias has been used in the news for commercial secret protection.
You are also welcome to Corunclima on Facebook & Google+!
Zhengzhou Corun. Tech. Co. Ltd., & Corunclima
With nearly 20 yrs' exp. in R&D and manufacture in transport refrigeration unit and all-electric air conditioner, Corunclima gradually evolves from manufacturer to professional consultant of eco-friendly, cost-effective, customizable transport cooling solution.