Corunclima All-Electric Refrigeration Systems
Author:Corun Date:2022/09/09
The Corunclima all-electric refrigeration systems consist of four different models, offering suitable electric refrigeration solution for small and medium-sized vans and trucks. Powerful cooling performance, convenience and reliability are the ideal all-electric solution for electric and engine-driven trucks.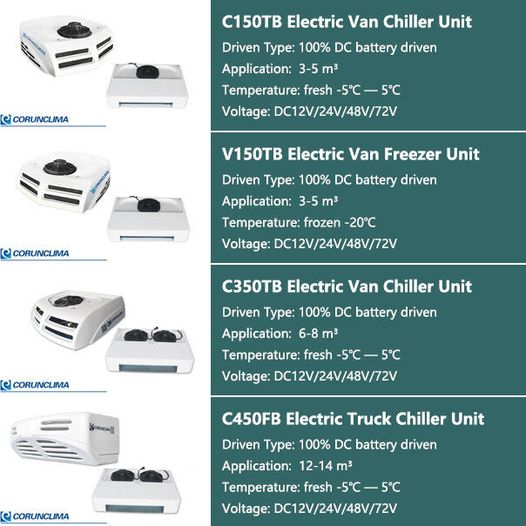 For vans and trucks with a small size of 3-5m³, C150TB can meet the needs of chilled transportation. The V150TB can meet the needs of frozen transportation.
For medium-sized 6-8m³ trucks and trucks, the C350TB can meet their chilled transportation needs.
For light trucks with a box of 12-14m³, C450FB is the best choice for chilled transportation.
It is complicated to maintain the original temperature of cold and frozen food when it is delivered. With the Corunclima all-electric refrigeration system, food transport can be made easier. Take action to reduce risk in the cold chain - maintain precise temperature control, maximize logistics traceability, achieve quality assurance and more.
The Corunclima all-electric refrigeration unit system offers a unique combination of control and convenience, combined with low noise and weight savings, and offers an attractive solution for urban environments and last-mile deliveries.
For more than 20 years, our mission has been to provide sustainable transport temperature control solutions. We give our customers peace of mind by ensuring that temperature-sensitive shipments reach their destination safely and efficiently.
Unlike typical direct drive solutions designed for diesel engines, the Corunclima all-electric refrigeration unit system represents the future in transport refrigeration by delivering constant capacity independent from the vehicle's engine and can work with both electric and engine-powered vehicles.
Using a fully electric DC compressor and built-in condenser that helps reduce energy consumption, increase vehicle autonomy, and improve efficiency and reliability.
A series of qualities such as ease of installation, rapid cooling, and durable quality have made refrigerated truck manufacturers and refrigeration unit installers around the world choose Corunclima refrigeration units.
We have a history of more than 20 years and are the No. 1 export manufacturer among all Chinese suppliers. We not only provide high-quality products, but also provide professional technical support, timely after-sales service, major project development support, major customer development support, etc.
Learn more about Corunclima all-electric refrigeration system here: https://www.corunclima.com/products/All-Electric-Refrigeration_1.html
We are looking for long-term partners, welcome to join us: info@corunclima.com
TAG:&nbsp&nbspdc electric refrigeration unit