Diesel engine refrigeration units installed in Thailand
Author:Corun Date:2020/01/16
Recently our Diesel engine refrigeration units are installed in Thailand. The customer visited us at Asia Coldchain show 2019 and was very interested in our truck refrigeration units. After detailed communication with our country manager, he order 10 sets truck refrigeration unit and 2 sets Diesel Transport Refrigeration Unit. He sent us feedback this week. He is pleased with the refrigeration performance.
He has ever used Thermoking T1000/T880S, Carrier Oasis 350/Super 850 and models of other transport refrigeration units manufacturer. The prices of these products are too high for local users. So he's looking for new manufacturers on the Asia Coldchain show. Last week, he installed our Diesel engine refrigeration units D1000 on a 7.5 m box. The D1000 cool down the box to - 25℃ in 1hour 45m. Both he and his customer are very satisfied so he share his happiness with us.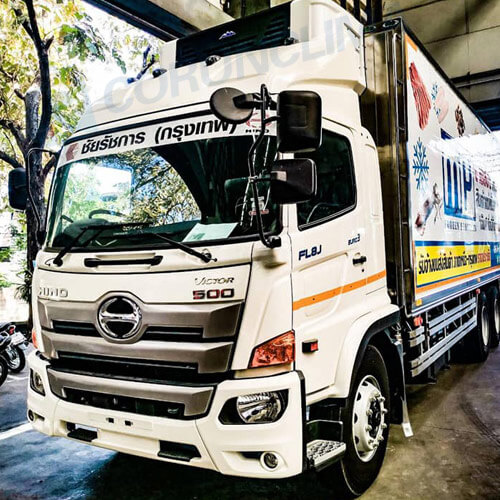 Now, the Diesel Transport Refrigeration Unit are our third generation products with Mainstream engine and compressor brand. With extremely powerful cooling power, performs exceptionally in refrigeration for cargo container with length 7.6-9.6M (25 to 60 m³).
If you are interested in our Diesel Transport Refrigeration Unit, please feel free to contact us. info@corunclima.com
Corunclima has over 20 years history of manufacturing transport refrigeration units. We choose world class components and high quality spare parts because we intend to bring good quality products to customers even it may cost more. But we also want to bring our products to more people to help them improve their life quality, prices of our products are really acceptable to customers.
We not only provide high quality products, but also provide Professional technical support, Timely after-sale service,Big project developing support,Key client developing support and so on.
You are also welcome to follow Corunclima on Facebook& Linkedin!