Electric Transport Refrigeration Unit C150TB for Bakery Reefer Van
Author:Corunclima Date:2017/11/02
Our partner in Oceania refers a new installation case of electric transport refrigeration unit to us. Electric van chiller unit has been installed for Volkswagen Caddy reefer van.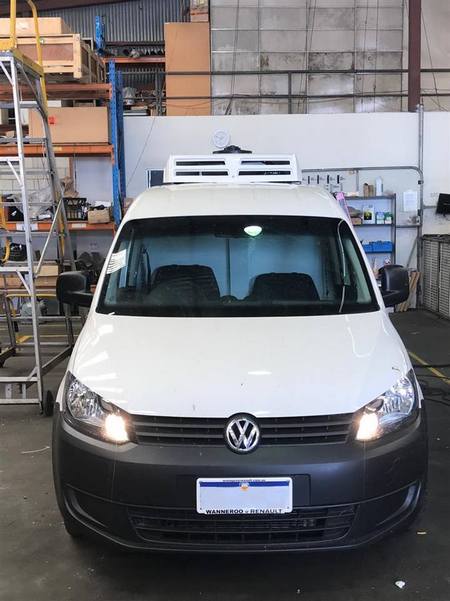 The client has several bakery shops in urban area and sometimes he needs to distribute bread and butter from one shop to another based on sales amount. So definitely butter needs to be chilled during transportation since it is subject to microbiological deterioration in normal temperature. There will be a progressive increase in the rate of deterioration while temperature rising, leading to moisture condensed on the wrapper and mold gradually developed. So they need well-insulated and well-performed reefer van to transport bread and butter. Our partner has helped them to retrofit the original van into reefer type with insulation of 2" stiff polyurethane panel board. They paneled the compartment with white fiber-reinforced plastic as foam and apply all necessary seams to prevent the moisture away from the foam.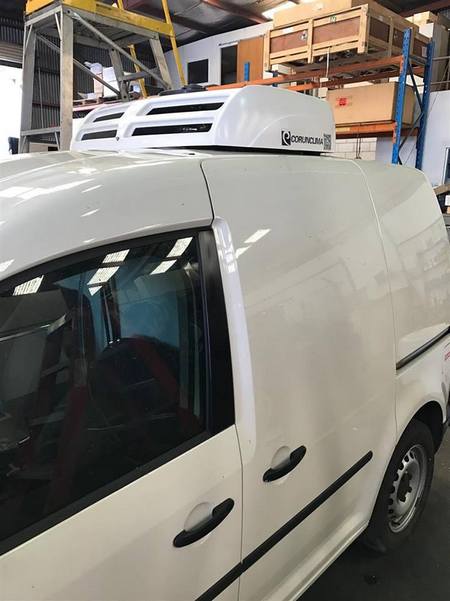 Caddy van has been made with fully glazed cargo compartment with privacy glass (in this case, the glass has been covered to keep out the exposure to sunlight) and two extra-wide sliding doors. 180° opening angle and secure locking makes it fit for load and unload cargo from the rear. With shorter wheelbase, it offers a load capacity of 3.2m³. Except rear load doors, the cargo compartment is accessible through windowless roof-height sliding door on the front passenger side, this is increase load and unload efficiency especially for temperature sensitive cargo.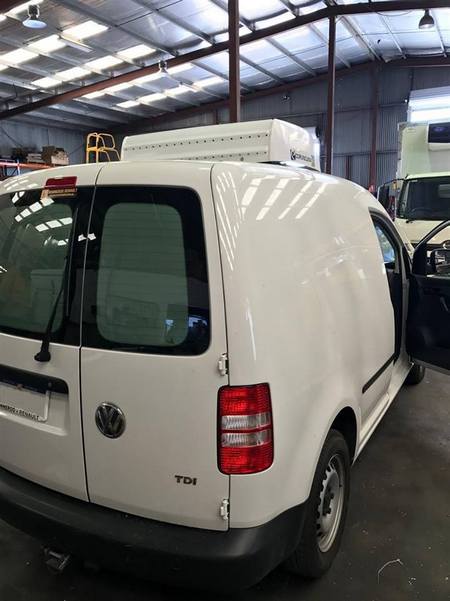 Unquestionably the transport refrigeration unit needs to function continuously in load and unload process. On condition they use conventional engine driven reefer unit, this will require the engine of van keeps working, which leaves more carbon footprint. According to the cooling space, our electric van refrigeration unit C150TB is completely competent to replace conventional engine driven type and cool down to the required temperature. It could keep on operating powered by the battery of van after engine shut off. From the reason that load and unload process of reefer van will not keep long, 140A output current of vehicle alternator and 12V, 59 Ah volume of original battery is capable of supporting C150TB working for 20 to 30 minutes after engine off. For their common chilled butter, the temperature is usually demand from -1 to 4℃. After all works done, the onsite operation data is C150TB cools from 26℃ down to 0℃ within 40 minutes. The ambient temperature is about 30℃.
You are also welcome to Corunclima on Facebook & Google+!
Zhengzhou Corun. Tech. Co. Ltd., & Corunclima
With nearly 20 yrs' exp. in R&D and manufacture in transport refrigeration unit and all-electric air conditioner, Corunclima gradually evolves from manufacturer to professional consultant of eco-friendly, cost-effective, customizable transport cooling solution.