Electric Truck Air Conditioner K20BS2 for Volvo VNL 760 Truck
Author:Corunclima Date:2017/09/18
To make our all electric truck air conditioner accessible for local fleet is always great news for us, but successful installation for different types and brands of truck/trailer would also be great to enrich information in our service cases database. According to different types of sleeper cab our different brands of truck, each detail shall be carefully considered for keeping original vehicle construction and best cooling performance of all electric truck air conditioner . Our partners' dedication to installation would always impress us.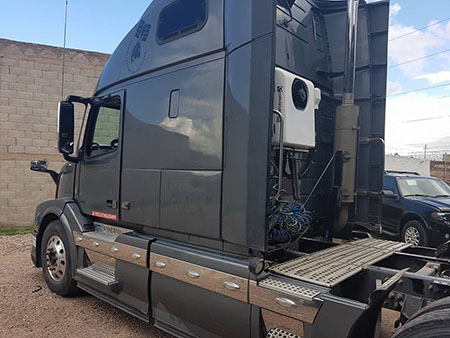 Mr. Alberto, our partner in Mesoamerica, referred to us a new installation case of truck sleeper air conditioner K20BS2. It has been equipped with Volvo VNL 760 truck. VNL 760 is designed with 70" long, 96" wide sleeper, this enable plenty of space for chauffer to handle with day-to-day demands. Such sufficient space would also be easy for K20BS2 finding itself the most appropriate place for evaporator installation in accordance with aerodynamic rules for best cooling performance while integrating itself to original interior trim of sleeper. Besides, the width over cab is 89.4" and the height is 123.7", such a large back wall space of sleeper back makes K20BS2 is quite tiny comparing with whole cab size. Wires and hoses will be arranged and connected easily and neatly in order.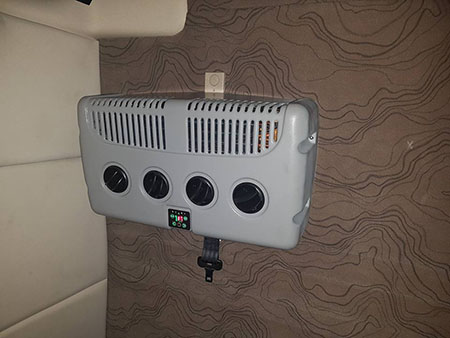 12V type of K20BS2 has been chosen for 12V, 200Amp output current of original alternator. 4 pieces of 950CCA original batteries would also perform well after K20BS2 has been deployed and ensure continuous cooling after engine off to let it become genuine no-idle sleeper cab air conditioner. 650m³/h air volume from air vent is competent to blow cool air into the cab meanwhile minimize overall operational noise to lowest. Set temperature is 18℃, the around temperature is about 32℃, K20BS2 takes about 20 minutes to cool down to 20℃. In consideration of all purchasing conditions and on-site test result, the customer is satisfies with cooling performance. During almost 3 months' summer season there, the average temperature would easily rise up to 30℃ and sometimes it would exceed 38℃. Now the customer enables himself to concentrate all on driving even in hot summer. 
* Alias has been used in the news for commercial secret protection.
You are also welcome to Corunclima on Facebook & Google+!
Zhengzhou Corun. Tech. Co. Ltd., & Corunclima
With nearly 20 yrs' exp. in R&D and manufacture in transport refrigeration unit and all-electric air conditioner, Corunclima gradually evolves from manufacturer to professional consultant of eco-friendly, cost-effective, customizable transport cooling solution.