Engine driven refrigeration unit specially designed for large box: V1100F
Author:Corun Date:2023/05/12
Corunclima's equipment will operate reliably and efficiently for decades to come. With a commitment to technology, innovation and safety, we lead the way in transport refrigeration solutions. Transport refrigeration unit V1100F is specially designed for large compartments, which can ensure the safety of more cargo.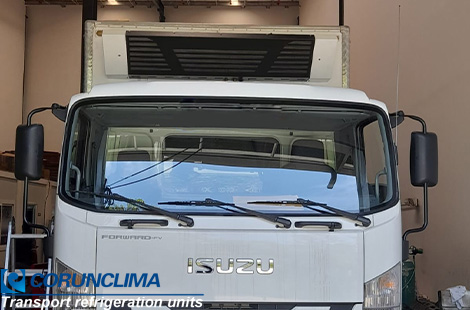 As a refrigerated vehicle manufacturer and logistics company, you face major challenges that require specialized equipment. At Corunclima, we recognize this significant challenge and design our unit to withstand the harsh conditions of this specific environment.
V1100F direct engine drive refrigeration can be used to replace the self-powered diesel engine unit for 20ft to 32ft box. The price is only one-third of the diesel engine drive refrigeration unit, which is a good substitute.
We have the most modern team and provide excellent service and quality. Our goal is to meet the needs of each client, which is why we provide security and confidence in our services. In order to fully meet the needs of our customers, we have everything needed to provide custom transportation and logistics refrigeration services.
Whether you need installation instructions or routine maintenance methods, Corunclima can help. Choose Corunclima for all your transport refrigeration needs and let us make your everyday life run smoothly and reliably.
In addition to the refrigeration units directly driven by the engine, we can give you great help in terms of electric-driven refrigeration units and diesel engine-driven refrigeration units. Between the 17th and 19th of next week, we will appear at EXPO PROVEEDORES DELTRANSPORTE Y LOGISTICA in Monterrey, Mexico, and we are waiting for you at booth 630.
We are proud to stand with our partners to take the next step in the refrigerated transport chain. It has always been a memorable experience as we continue to learn from and collaborate with the best in the industry. Get in touch with our team to learn more about our solutions for transport refrigeration units.
We are looking forward to long term partner, if you are interested, pls contact us freely: info@corunclima.com
TAG:&nbsp&nbspEngine driven refrigeration unit