How to Choose Your Truck Refrigeration Unit
Author:Corun Date:2018/05/02
Thanks to the development of cold chain logistics, now we can enjoy sausages from Russia, beef from Australia, even avocados from Mexico. What is the key factor during the long-haul transport to keep the freshness of the food? Temperature control. Temperature control is required in every single link of the distribution of temperature-sensitive goods and Truck Refrigeration Unit is its manifestation on transport. Question comes: how to choose a perfect Truck Refrigeration Unit to meet your needs as it plays such an important role in transport?
Step one, decide if you need a chiller or freezer.
Think what is the purpose of installing the truck refrigeration unit? You are planning to use it for fresh or for frozen goods? How much temperature is required? In Corunclima, for temperature required above -5 degrees Celsius, we recommend our C series product; for temperature required at -15 to -20 degrees Celsius, we recommend our V series product. Of course, sometimes V series product can be applied to larger container for chilling purpose.
Step two, check what kind of vehicles you are planning to install the unit on.
It is a van, a pickup, or a truck? What is the container size? A variety of Truck Refrigeration Units are for your choice with applicable container sizes ranging from 2.5m3 to 55m3.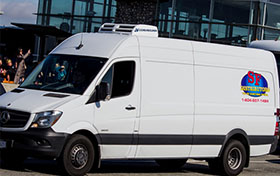 Freezer Unit for Van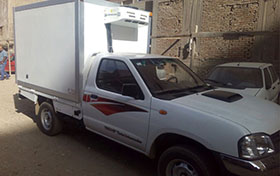 Chiller Unit for Pickup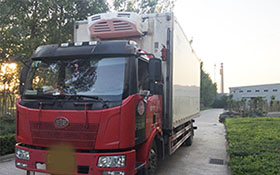 Chiller Unit for Truck
Step three, choose the suitable Truck Refrigeration Unit with suitable power supply.
To make it easy for understanding, we give a short introduction on different power supplies. Mostly seen type- Engine Driven. The name itself explains that such unit is driven by the vehicle engine, so if the engine stops, the unit stops cooling either. Besides, a compressor and compressor bracket will be needed to install near the engine. Second type is Battery Driven Truck Refrigeration Unit. Such units are only used for chilling currently. Unlike Engine Driven type, no compressor installation is needed for Battery Driven type as it uses vehicle battery to power, so even when the engine is stopped, the Truck Refrigeration Unit can continue to cool around 30 minutes (we can extend the duration by adding more batteries). If your vehicle does not have a space for additional compressor, Battery Driven Truck Refrigeration Unit would be the best choice. Third type is Diesel Engine Driven. This unit is mainly applied to containers above 35 m3 and has its own engine, which means even the vehicle engine stops or breaks down, the unit continues cooling without being interfered. Fourth type is Standby Units Driven. Actually, standby units are more used together with Engine Driven and Diesel Engine Driven Truck Refrigeration Units, so that while the vehicle is parking and engine is off, driver can connect the standby unit with a charging pile to cool. Corunclima specifically has integrated standby Truck Freezer Unit V450FE, V550FE, V650FE and V750FE to choose, making the unit more compact by integrating the standby unit with condenser.
Now you have got a general idea about what kind of product you are looking for, last step—check Corunclima website and find it!
Here is a smarter way for you to choose a perfect Truck Refrigeration Unit (Attention! Very Useful Tip Here): leave an inquiry on Corunclima's Website or Facebook. Professional team will get back to you with a perfect solution!
TAG:&nbsp&nbspTruck Refrigeration Unit &nbsp Corunclima