Long Way to Go for Electric Trucks, While Electric Truck AC is at Your Door
Author:Corun Date:2018/07/19
Recently, Volvo Trucks introduced its new FE Electric and FL Electric trucks in Gothenburg, Sweden; Peterbilt demonstrated its Electric Truck Model 579 to showcase its work in the electric vehicle realm and the viability of the concept in real-world fleet operations in Sunnyvale, California. Clearly Electric Trucks are absolutely coming to the market, but in their own due time. In terms of familiarity, efficiency and productivity, electric trucks are already capable of delivering goods, but things are waited to be worked out in terms of operational ranges and scheduled recharging times, so that fleets may get the confidence to apply it in urban centers for delivery.
While there is still a long way to go for electric trucks, electric truck air conditioner is something you can get at your door.
Corunclima has devoted itself to the R&D of electric truck air conditioners because of its superb performance and reliability. Driven by battery instead of Diesel Engine makes the air conditioner run quietly and smoothly, which gives the maximum comfort to the driver en route, especially if they need a nap. Cooling capacity of an Electric Truck AC is no less than that of a Diesel Driven one, or even higher. Plus, cutting idling time (no need to turn on the engine while enjoying the cooling) means lower fuel consumption and lower spend. Most importantly, it is not a risk to adopt an electric truck air conditioner as this technology is quite mature with our nearly 20 years' devotion in it and there are already tons of real applications at 30+ countries we are marketing to endorse our product.
3 amigos of Corunclima Parking Air Conditioners are: Condenser Back Mounted K20BS2, Condenser Top Mounted K20BT2, and All Roof Top Mounted T20B.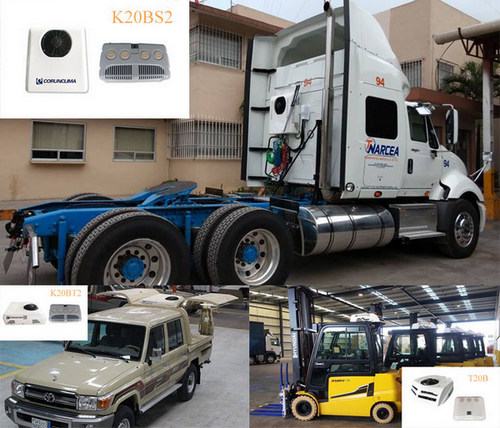 Together with Corunclima, let's enjoy the comfort brought by worry-free transport refrigeration unit and air-conditioning system for trucks, vans, and various types of vehicles!
TAG:&nbsp&nbspParking Air Conditioner &nbsp Corunclima