Notes of Food security during Cold Chain Logistics
Author:Corunclima Date:2017/11/10
One important reason we apply transport refrigeration unit during cold chain logistics is food security tends to be threatened by quality and temperature changes. Physiological and biological changes of food, no matter caused by microorganism or external factor change, will lead to food quality deterioration. So it's important to keep appropriate storage conditions according to food quality change factors.
Food features decide what type of physiological and biological changes will happen during storage. Main features include respiration, after ripening, germination and bolting, evaporation, rigidification, and softening.
Respiration is common physiological change for fresh food storage. Organic sugar inside fresh food will be influenced by oxidordeuctase degrading into carbon dioxide and water while heat will be generated. This is a process of biological oxidation. All types of respiration will consume nutrition and generate heat, and such procedure will accelerate food quality deterioration and decrease storage cycle. Meanwhile, respiration is normal physiological activity and self-defense of fresh food to prevent the harm from microorganism. So we shall keep moderately weak aerobic respiration of fresh food to prevent oxygen deficit during storage.
After-ripening is biological property of vegetables and fruits. It is a maturation process after vegetables and fruits depart from its stock plant. After-ripening is senescence process which turns vegetables and fruits into complete maturity, which makes them perishable and hard to be stored. So vegetables and fruits which need to be stored shall be picked before maturity and storage conditions shall be controlled to extend after-ripening process.
Germination and bolting is transitions period for biennial or perennial vegetables resuscitate from dormant state and turn from vegetative growth phase into reproductive phase. Germination and bolting consume large quantity of nutrition, which ages vegetable tissue and reduces food quality. Low temperature is effective to extend dormant cycle and prevent germination and bolting.
Evaporation usually happens on fresh food containing large quantity of water and leads to withering. It will directly reduce weight of fresh food and food quality. Besides, too much evaporation will activate hydrolase which hydrolyze complex organics into simple. All these will become negative factors for food storage, which generates microorganism and rot on damaged part on fresh food.
Rigidification is biological changes of livestock, poultry, and fish after being butchered, which causes muscle tissue losing softness and elasticity. Based on different butchered method and temperature, types of rigidification are differentiated. Rigidification of fish happens foremost comparing with livestock and poultry. Rigidified fish is still fresh and edible, however rigidified livestock and poultry are inedible due to lack of elasticity, hard to be cooked and digested. For storage, rigidified muscle tissue is partially acid, which could effectively prevent microorganism generation. Moreover, main components of tight muscle tissue remain as well as nutrition. So this feature decides its inclination of cold storage.
Softening is following process after rigidification, the feature of which include softening and recovery of elasticity. Softening is necessary process of livestock returning into edible while it is risk factor for fish to become perishable since it contains microorganism lives in water. Softening is caused by autolytic ferment which generates proteolysis. Temperature is important factors for softening, which accelerate softening when it is high. Softening will stop when temperature drops into 0℃, so cold storage is prevention of softening for livestock, poultry, and fish.
Corunclima Electric Van Refrigeration Units C350TB Gallery: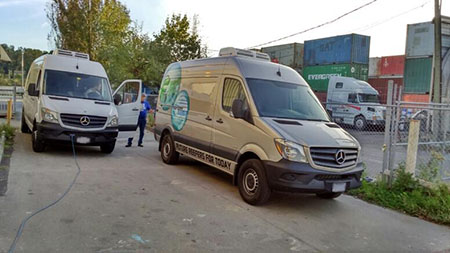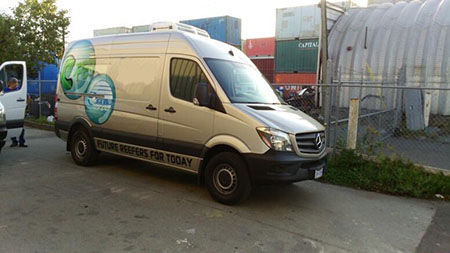 * Alias has been used in the news for commercial secret protection.
You are also welcome to Corunclima on Facebook & Google+!
Zhengzhou Corun. Tech. Co. Ltd., & Corunclima
With nearly 20 yrs' exp. in R&D and manufacture in transport refrigeration unit and all-electric air conditioner, Corunclima gradually evolves from manufacturer to professional consultant of eco-friendly, cost-effective, customizable transport cooling solution.