Southeast Asian Customers Visit corunclima Truck Refrigeration Units Factory
Author:Corun Date:2019/09/26
On 25 Sep,2019, our customer from Southeast Asia comes to visit Corunclima Transport Refrigeration Units Factory.
The customer mainly deals in refrigeration boxes, also installs the transport refrigeration units, and provides refrigerated vehicles to some food companies and logistics companies. He has purchased truck refrigeration units from South Korea before, but Sales are not good because of the high price, so the customer has been looking for more suitable suppliers.
In March 2019, the customer sent an inquiry, and the business manager Lucy provided model Suggestions after knowing the specific needs of the customer. However, as he has not purchased from China before, the customer is still a little hesitant and cannot confirm the order.
However, the business manager Lucy did not give up. She often communicated with customers, asked them about their business and offered some suggestions. She also shared our successful cases in other regions with the customer.
After several months of communication, the client was finally impressed by the professionalism and enthusiasm of the sale manager Lucy and decided to take the technical staff to our factory for a field visit.
Customers visited our production lines, LABS, and on-site tests. Our technicians answered all their questions about the products and our factory. According to the truck body sizes offered by our clients, corunclima professional sale manager Lucy recommended C150T van chiller unit, V300F refrigeration units for pickup trucks, V350F reefer units for trucks, V650F truck reefer units respectively.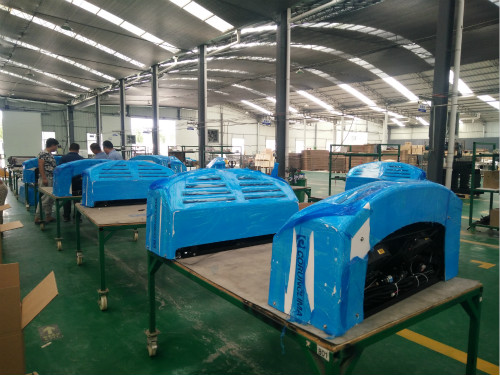 Lucy also described our strengths, the support we can provide, and our success cases in the Southeast Asia and other regions. The customer was very satisfied with the whole visit and confirmed the model, quantity and other details of the order on site.
If you have any questions about our vehicle refrigeration unit or bus air conditioner, please feel free to contact you. We are recruiting agents and partners worldwide. Looking forward to our cooperation.