Battery powered van refrigeration unit working in Australia
Author:Corun Date:2022/02/08
Corunclima DC12V Electric Battery powered van refrigeration unit was installed on Maxus LDV van in Australia.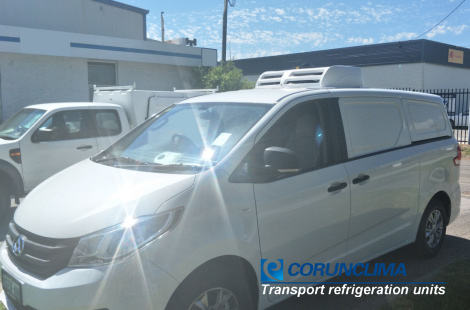 Corunclima electric refrigeration unit would be an ideal choice for last-mile delivery because of its consistent cooling performance while the engine is off. Powered from vehicles original battery or auxiliary battery bank directly, Corunclima Battery Driven Fridge doesn't need compressor bracket, it can be installed easily and quickly.
The advantages customers choose us are included not limited:
*Zero emission
*save fuel
*less power consumption
*more cooling capacity
*quiet/no noise for night-delivery
*nice looking shape
We start to design, test and produce full DC electric refrigeration units for each cargo vans and truck cabins since 2008. Our electric refrigeration solution are perfectly compatible with EV Vans, Electric Vans,Hybrid Vans, Diesel Vans or Gasoline Vans.
So far, Corunclima have successfully installed on pure electric vehicles, including LDV e-delivery 3, Nissan e-NV200, Merdeces e-Sprinter etc , and the quality has been proven in UK, Germany, Austraila, South Africa, Canada, US etc.
Corunclima not only offer quality chiller systems, but also offer freezer unit to suit your specialized transport requirements. We have a wide range of full-electric refrigeration units for your business, delivery vans, trailers, 5-6 meters transport vehicles.
Model

C150TB

V150TB

C350TB

C450FB

Temperature

-5℃

-20℃

-5℃

-5℃

Application

(m³)

-5℃

3

6-7

6-8

12-14

-20℃

NA

2.5-3.5

NA

NA
We are committed to deliver a prompt, efficient and value-for-money service, without compromising on quality.
If you want to choose refrigeration units for Last-Mile delivery vans, whether van, pickup or truck, pls contact us freely at info@corunclima.com or visit our web www.corunclima.com.