Diesel Engine Refrigeration System Installed On Fuso Truck in South Africa
Author:Corun Date:2022/03/29
Recently, Corunclima self-powered diesel engine unit was installed on 55m³ Fuso Truck box(-20℃)in South Africa.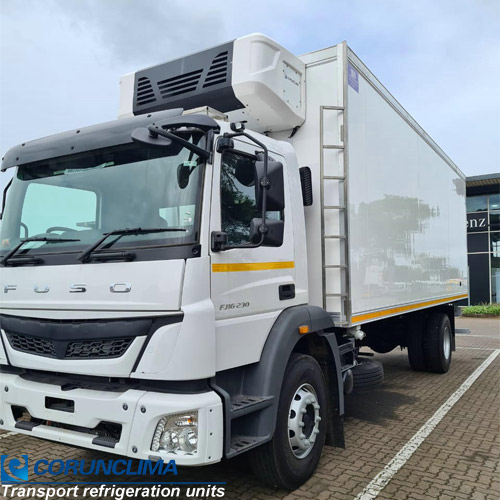 Model: D1000
Motor : Original Yanmar engine 3TNV76
Compressor : Germany GEA Bock
Application: for 35 to 55 m³ length box
Corunclima diesel engine powered units D1000, With extremely powerful cooling power, performs exceptionally in refrigeration for cargo box from 24ft to 32ft. The engine of this model is originated from Japan, the brand is famous Yanmar 3TNV76. The compressor is imported from Germany, the brand is well-known GEA Bock compressor. The use of leading engine and compressor brands can guarantee perfect cooling performance and only these high quality parts can assemble and manufacture delicate, smart and efficient transport refrigeration units.
Features
1. Mainstream engine and compressor brand (Yanmar, Bock)
Leading brand engine and compressor guarantee the performance. mainstream brand, easy to find parts in market, bring the convenience of after sales.
2. Japanese Yanmar engine, low noise, low fuel cost
No need to worry about the complaint to the engine noise anymore, when delivery in the early morning; and the advanced engine will also save users' cost on the fuel.
3. Advanced gravity balance designing
Repeated tested design for the machine body balance, won't torture the insulated body panel, reduce the risk of body panel broken due to the heavy weight of the refrigeration unit.
Since 1999, we have started to produce transport refrigeration units. In 2011, we started to produce Diesel refrigeration Units. Now, the Diesel Transport Refrigeration Unit is our third generation product.With 19 years experience in truck refrigeration system, Corunclima always offer reliable and durable products with partner cooperation.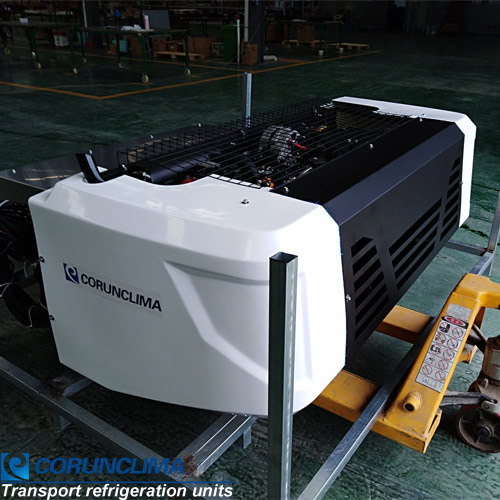 Model D1000 is similar to Thermoking T1000/T880S, Carrier Oasis 350/Super 850, but we strongly recommend you try our diesel engine truck reefer units which are with higher cost performance. If you are planning to start a Diesel engine powered truck units business, we strongly advise you choose us, because we can provide you with a full range of advice and cost-effective quality products. Except the conventional products ,we can also offer customized units based on your local requirements.
Corunclima have a complete products series, covers a various segment markets including van, pickup, and truck. With the help of our R&D team, we are able to provide different kinds of one-stop solution in cold-chain-industry. We can offer you the most considerate advise as well as exceptional solutions.
If you are interested in our products, please contact us:info@corunclima.com
TAG:&nbsp&nbspdiesel engine refrigeration units