Electric Bus Air Conditioner AC65B Dec 26th 2017 Installation Case
Author:Corun Date:2017/12/26
Most of our partners should be in their Christmas holiday now and wish they may have a good rest during vacation. Premise of booming and successful business is enough preparation and energy savings both in mental and physical. Before their office closed, they referred the installation case of electric bus air conditioner AC65B to us. Since most of their effort is focused on electric truck air conditioner promotion and recent installation cases were about truck ac unit either, it is quite a surprise receiving this electric bus air conditioning system case.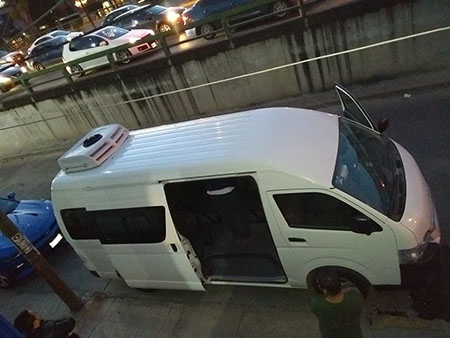 Within recent imported shipment of products, our partner decided to have some new models of bus air conditioner included inside not only for performance trial but also for next year marketing promotion strategy. As the larger size of bus or passenger van has, the cost of relative accessories and time spent will increase as well. So they would like to try some air conditioner for little bus/van at first. Model AC65B is one of them. Newly designed evaporator is much space-saving and ultra-slime on its appearance on one hand, it has been designed to increase 30% cool air output efficiency to have better cooling performance cohering with aerodynamics. Though the whole unit has been empowered with 6.5kw/22,100BTU cooling performance, sole condenser fan is sufficient enough to bear the work load for its better quality and power. Increased technology on condenser fan has decreased not only the weight of whole unit but also procure cost.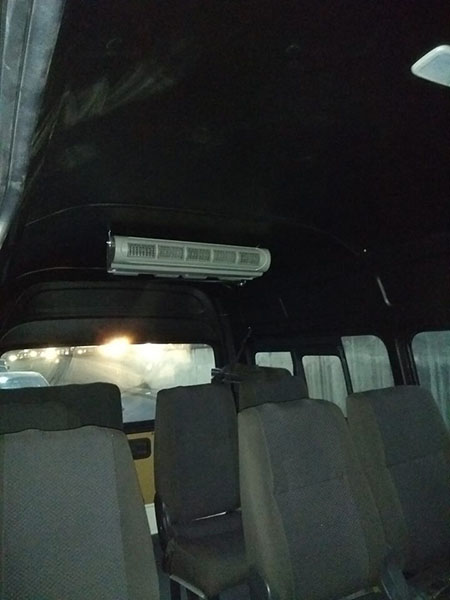 The customer's passenger van is Toyota Hiace with 12 seats capacity. Though it has been equipped with rear air conditioning for passengers, the actual feeling inside passenger cab is still uncomfortable in hot season. So the customer come to our partner for better cooling solution after he had knowledge of countless satisfactory vehicle air conditioner services in local market. If our partner still have traditional engine driven bus air conditioner for recommendation, the installing time cost on compressor installation and connection as well as find proper wiring and hosing space for air duct would delay the whole installation. This news update would has become impossible before Christmas. AC65B has integrated compressor inside, which does not merely eliminate the trouble to find a place for compressor inside the bonnet but also enables refrigerant discharged in advance once it has been produced. Alternator is still important for adding electric bus air conditioner since it must be powerful enough to start vehicle engine as well as support air conditioner operation. The original alternator is 12V, 130Amp, so it is needless to change it. The original battery is 730 CCA, if the passenger van needs to be pulled over for short stay, just shut off the engine and let air conditioner continue to blow cool air.
You are also welcome to Corunclima on Facebook & Google+!
Zhengzhou Corun. Tech. Co. Ltd., & Corunclima
With nearly 20 yrs' exp. in R&D and manufacture in transport refrigeration unit and all-electric air conditioner, Corunclima gradually evolves from manufacturer to professional consultant of eco-friendly, cost-effective, customizable transport cooling solution.