Electric Truck Air Conditioner K20BS2 Feb 22nd 2018 Installation Case
Author:Corunclima Date:2018/02/22
Definitely we would like to see batches of our electric truck air conditioner bid successfully for fleet cooling solution among all other competitive brand, the case like such does not only prove client's recognition for quality and cooling performance of our product, but also helps our partners to continuously increase competency of their engineering and technical team through different types of installation or troubleshoot. Nonetheless we would never neglect any single case from each client come to our service center for cooling solution consultation and service. Each stable and firm step take in local market facilitates another big leap in successful business. This time's client serves in a large local fleet company, some of his colleagues have come to our partner for installation and he finally made his decision to have one.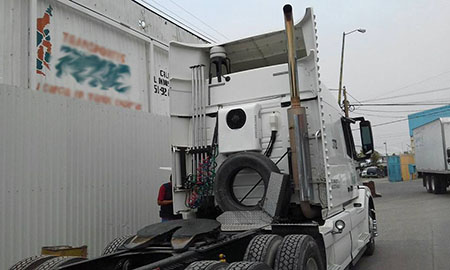 Volvo VNL400 model truck is his exclusive hauling equipment in the company. For its drivability and performance, he is quite satisfied with it. Fuel efficiency is a vital part both for truck brands, company owner, or truck parts manufacturer like us. This type of truck has been designed strictly in accordance with aerodynamics. With newly-featuring hood, bumper, and lower airflow deflector, it would easily manage airflow and efficiently channel it rearward. No matter form cab fairing complemented by roof air deflector, or redesigned chassis fairings, these details will help to smooth out turbulence as well as optimize airflow below the bottom. Besides, according to model description from Volvo, its eXceptional Efficiency (XE) packages would help to increase fuel efficiency to maximum. Based on the model and powertrain setting chose by the client, perfectly matched engine and I-Shfit transmission would form the optimum efficiency package based on practical application. The save would be up to 0.2mpg (miles per gallon) or more and finally helps to save as much as $2,000 per year, per truck. Then we would like to add electric truck sleeper air conditioner K20BS2 as bonus for whole vehicle fuel efficiency. With electric power source coming from truck battery packs, cooling solution finally would no longer rely on fossil fuel. Even with need to whole night rest during long-distance hauling, the driver has been enabled to shut off engine and enjoy whole-night rest cool and comfortably in the sleeper. Also with advanced and reliable low voltage protection mechanism has been integrated inside controlling system of air conditioner, insufficient electricity to start engine would never be a problem anymore. Our partner in Mesoamerica has ever calculated how much fuel would be saved with K20BS2 equipped according to general situation in local market. The final result is that fuel saved after 6 months' application would help the client recover purchase cost at very beginning. So we are confident that K20BS2 would help the client to save more on the cooling solution.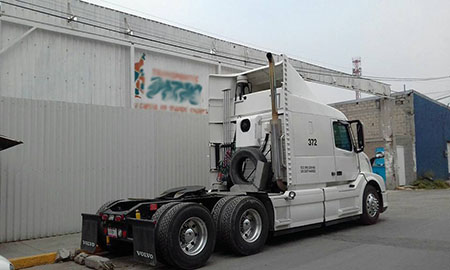 VNL400 has rendered a comfortable living space with its flat-roof sleeper (The client has rebuilt his sleeper into high-rise type in this case). Totally 118 cubic feet space inside sleeper would be sufficient for relax and recharge en route. Also with surprisingly large 36"×75"wide bed in and efficient 42" long sleeper has formed a cozy spot after long time driving. Maybe the clients have already had many electric gadgets inside the sleeper like TV, refrigerator for storing cold drink or snack, do not be worry about capacity of original vehicle alternator or batteries. Our partners would take every factor into consideration. Based on wearing condition or service time of original parts, our partners would suggest parts exchange or retrofit which helping to integrate K20BS2 into the cab as well as cut down the budget. This VNL400 has been integrated with 12V, 200AMP alternator and 4 pieces of 950CCA battery, minus the fuel cost from any other electric appliances inside the cab, surplus power would still be easy to activate and keep operation of K20BS2.
You are also welcome to Corunclima on Facebook & Google+!
Zhengzhou Corun. Tech. Co. Ltd., & Corunclima
With nearly 20 yrs' exp. in R&D and manufacture in transport refrigeration unit and all-electric air conditioner, Corunclima gradually evolves from manufacturer to professional consultant of eco-friendly, cost-effective, customizable transport cooling solution.