Electric Truck Air Conditioner K20BS2 March 6th 2018 Installation Case
Author:Corunclima Date:2018/03/06
With recent delivery and shipment of electric transport refrigeration unit and truck air conditioner reached in local port, our partner in Mesoamerica has our electric transport cooling equipment full in stock for coming hot season. Among electric truck air conditioner, condenser/evaporator integrated truck cab air conditioner T20B is commonly recommended for Euro-style truck with compact driving cab and sleeper day cab, but it may also be mounted for cargo van or little size passenger van for driver's and passenger's cooling need as well as temperature remaining for some fresh cargo. Regarding condenser cab back-mounted K20BS2, it is the top hot-sale cooling gadget for US-style truck and over hundreds of which had been installed for drivers and local fleet company in local market last year. So satisfaction from clients does not only convince more new clients come to our partner for one K20BS2 installed, but also increase confidence of our partner to keep on working together with us to offer transport cooling service and increase brand fame. Now come together with us for another installation case of K20BS2.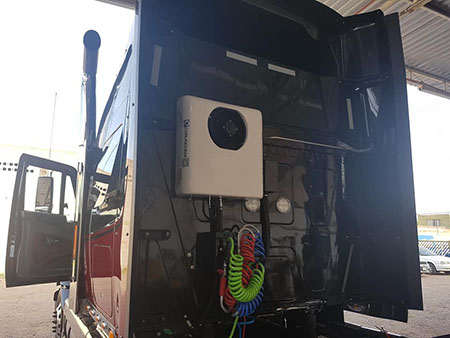 The client drove his brand new International Lonestar into our partner's workshop. Though all interior ornament and appliances are normally operate and attractive, the client is a little worried about cooling performance of original cab air conditioner. According his description, desert-like area he would pass by during the frequent routes and some of his colleagues have advised him to add another air conditioner for cab cooling. The air conditioner especially condenser part should be dust-proof when driving through desert terrain, pervasive dust and sand would lead to mechanical failures of air conditioner and increasing maintenance fee on parts change like filters. If the air conditioner incessantly go on strike during the journey in hot season, the driving cab undoubtedly is like a microwave oven and the man in which would feel like a fried steak on pan, it is needless to say anyone would like to have a rest in sleeper under such awkward condition. Another reason for extra air conditioner is insufficient cooling performance of the original one. No matter the original one is engine driven type or water cooling unit, higher ambient temperature definitely would require more fuel cost and long-time operation of air conditioner, the types mentioned above would be incompetent to handle with cooling need under extreme hot climate. So electric truck sleeper air conditioner K20BS2 is exactly what he need. Extra-long lifespan fan and blower for 2 air conditioner core parts guarantee enough cooling air blow (650m³/h) and heat exchange capacity (8,500BTU) of K20BS2. Cooling hosing system and electric controlling system are carefully designed based on Corunclima 6th Generation electric air conditioner technology. The whole system separately and accurately operate according to set value by users while totally hermetic in case of dust and any other impurities infiltrate into the system.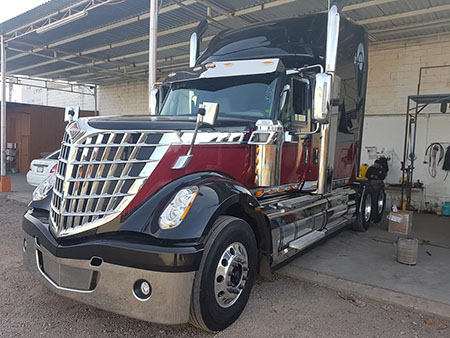 Lonestar truck may help the client on his hauling and dragging no matter on long haul, heavy haul, or any other transportation need. Its equal parts head-turning style and optimal performance will help the driver to handle with long distance driving. With Its unique design philosophy, Lonestar would render the quietest, roomiest cab along with advanced ride and handling. Plus big bore power performance of Cummins X15 engine, hauling and operation efficiency would also continuously increase while aerodynamic design would decrease drag and relative unnecessary cost. Now our electric air conditioner K20BS2 would like to increase fuel efficiency to another level on cooling aspect. All DC current based operation mechanism and 12V/24V type optional make it could easily connect to original truck battery packs. Low voltage protection, AC/DC converter, value-added auxiliary solar panel would help to guarantee enough electricity for starter as well as enhance adaptability to different power source.
You are also welcome to Corunclima on Facebook & Google+!
Zhengzhou Corun. Tech. Co. Ltd., & Corunclima
With nearly 20 yrs' exp. in R&D and manufacture in transport refrigeration unit and all-electric air conditioner, Corunclima gradually evolves from manufacturer to professional consultant of eco-friendly, cost-effective, customizable transport cooling solution.