Electrical tractor air conditioner T20B in south africa
Author:Corun Date:2020/11/24
Recently our electrical tractor air conditioner T20B was installed on Mccain Food's tractor by our partner in south africa.
Our partner mainly deals in agricultural machinery and construction machinery. He also provides various accessories, such as heavy equipment air conditioners, compressors, pipes, drying bottles, expansion valves. In october, purchasing manger of mccain food is looking for 12 volt tractor air conditioner, he recommend corunclima electrical tractor air conditioner T20B to him. Soon he installed them for Mccain Food and share us the installation pictures of 12v air conditioner for tractor.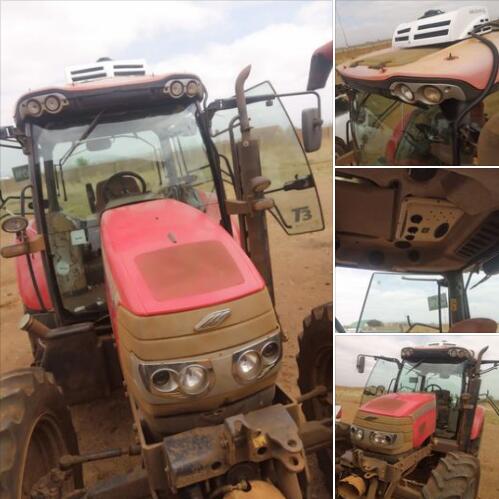 He has bought hundreds of our electric air conditioner T20B. He installed them on kinds of heavy equipment, such as crane, grader, loader, dozer,forklift.
He said that more and more tractor owners prefer to buy electrical tractor cab air conditioner because they want to have an aircon that works well in the dusty and hot environment. Electrical tractor air conditioner T20B is an battery operated air conditioner. It can work even when the engine is turned off. So it can save fuel consumption and engine wear.
Our partner also like this tractor cab roof air conditioner very much, as the whole installation is so easy. Its simple and integrated design allow you can fit it with half an hour. All job will be just on the roof of the tractor cab. All parts are integrated into 1 monoblock. Never touch unnecessary parts at all, no risk of breaking any other parts. Both the and the receiver are built in, there is no need to find bracket or space for them at all.
There are many yellow machine equipped with corunclima electric air conditioner in the mines and construction site. You will also see the tractor rooftop air conditioner in the farming fields in SA. Earthmoving equipment, truck, caravan, forklift, any type of vehicle has a small cab can use this rooftop battery aircon.
If you are looking for roof mounted air conditioner for tractor, please feel free to contact us. info@corunclima.com
You can get more installation cases of electrical tractor air conditioner T20B through our Facebook and Linkedin Page.
TAG:&nbsp&nbsp electrical tractor air conditioner&nbsp12 volt tractor air conditioner&nbsptractor cab air conditioner&nbsptractor cab roof air conditioner