Engine Driven Transport Refrigeration Unit V300F Feb 6th 2018 Installation Case
Author:Corunclima Date:2018/02/06
Classical engine driven transport refrigeration unit installation case is rarely seen in recent days especially the freezing unit. As most of our clients in the Northern Hemisphere just spent leisure time in winter and new year vacation, most of them are still in preparation and stock period. Moreover, there will be quite a while before entering into hot season. So most of them may delay their order for freezing unit for reefer truck or van. But our partner in Southeast Asia is vigilant to their early raining season and need his transport cooling equipment prepared in warehouse in advance, so our first installation case of freezing unit in 2018 has come.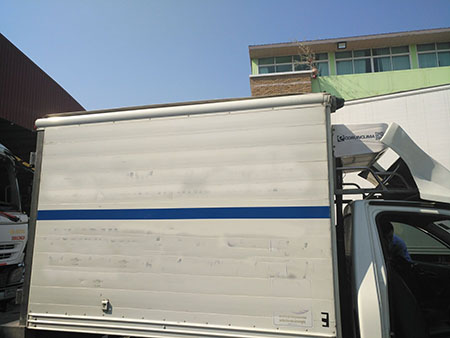 Mr. Katsurou, our partner in Southeast Asia, jointly owns a vehicle retrofit company with his local friends. They have business of building dry cargo container, refrigerated cargo container, and whole reefer vehicle refit and maintenance. As previous engineering experience in Mitsubishi transport refrigeration unit service center, he owns bountiful expertise in conventional engine driven transport refrigeration unit and monoblock diesel engine transport refrigeration unit. Though these types of unit is much complex when integrating to original vehicle power system and electrical system, their strengths and cooling performance in large reefer container and freezing-need cargo is undoubted. So suggestions from Mr. Katsurou about conventional reefer unit as well as his meticulous working attitude is always appreciated by us. As previous order in last year from his client about freezing unit for reefer pickup/utility vehicle (UTE), so he has ordered 5 sets of pickup/light truck refrigeration unit V300F from us. As the rainy season may start from mid-May and which may prevail over most of that area, temperature-sensitive cargo, no matter chilling or freezing need, will suffer destructive loss if exposure to high humidity or high temperature. Thus he need cooling equipment designed, mounted, and tested in advance due to totally dozens of reefer pickup needs to be retrofitted.
The reefer pickups is Toyota Hilux, which is commonly seen as retrofitting into reefer pickup in Asia-Pacific areas. New model Hilux is enabled to haul more than 1 ton payload (the hauling weight is based on regular vehicle basis, for heavy conversions, our partner will help to change heavy duty suspension). As deck area has been redesigned allowing more space to carry bulky cargo. So the deck area, 2,315mm in length and 1,575mm in width, has been successfully equipped with refrigerated cargo container.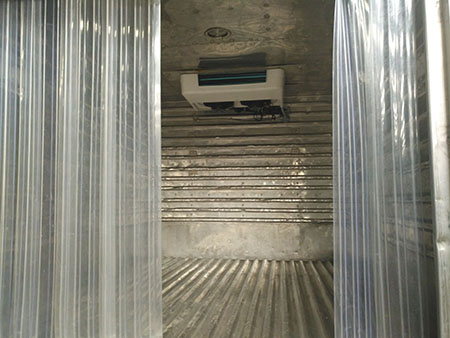 The client would like his container could cool down to -20℃ since the desired cargo is frozen fish. Refrigerated transport of frozen fish should be carried out in an enclosed vehicle and definitely prevented exposure to direct sunlight. Considering of factors like initial temperature of fish, container space is fully or partly loaded, etc. insulated vehicle is required. As best quality insulated panel and paneling technique are important factors for us to select local partner owning vehicle refitting business, insulation quality and thickness of poly panel would always be considered seriously and perfectly applied. The containers for these 5 reefer pickups are about 5m³, pickup/light truck refrigeration unit V300F is ideal for freezing need of this size. No matter required precool operation for freezing fish before container loading or cooling operation on road, cooling capacity of 1,650W(-20) empowers V300F to fulfill its freezing duty. As air deflector has been applied to the pickup, our partner also helps to add extra holders hidden inside deflector to offer more security of condenser above driving cab. Curtain also has been added at the tailgate to decrease hot exchange from cargo container to surrounding environment.
* Alias has been used in the news for commercial secret protection.
You are also welcome to Corunclima on Facebook & Google+!
Zhengzhou Corun. Tech. Co. Ltd., & Corunclima
With nearly 20 yrs' exp. in R&D and manufacture in transport refrigeration unit and all-electric air conditioner, Corunclima gradually evolves from manufacturer to professional consultant of eco-friendly, cost-effective, customizable transport cooling solution.