Two Full Container Of Truck Refrigeration Units Are Ready To Be Shipped
Author:Corun Date:2022/04/12
These days, our workers are busy in producing two full containers of Truck Refrigeration Units for customers' cold chain logistic needs.
Model C150F
For minitruck, pickup, Bakkie, UTE vehicles from 3-7m³.
Original Top Brand parts, Sanden, QP, TM compressor, Danfoss valves
Applying for: chiller and freezer truck, pickup, bakkie, UTE vehicles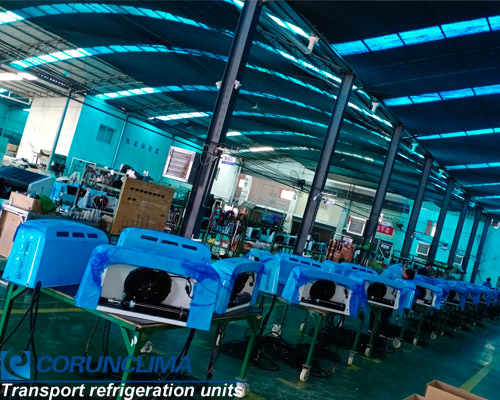 Light trucks are often required for fresh food transportation within the city. Small truck refrigeration units C150F will be your best choice. It is often used for freezer truck, pickup, bakkie, UTE vehicles, etc, and the temperature ranges from +0 to -5 degree on vehicles with 3-6 cubic boxes. Powerful cooling capacity, lightweight body will bring you a very comfortable cooling experience.Till now, we have OEM cooperation with dozens of automotive companies in Mid-east, South-America and get widely recognized by our customers.
Model V650FE
Frozen (-20℃ ) for 26M³ truck body
Chiller (-5℃ ) for 30M³ truck body
AC380V/220V standby system built-in condenser is optional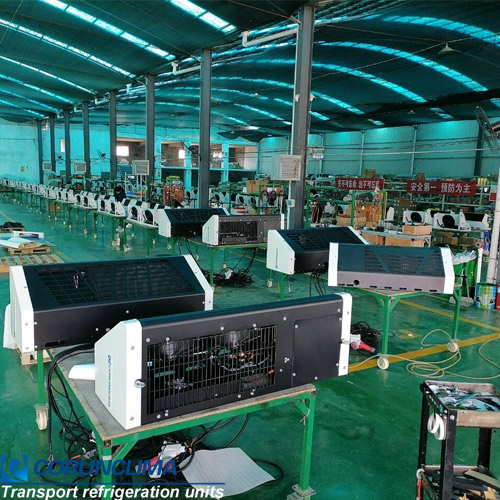 Corunclima truck transport refrigeration units V650F is driven by the truck engine, it's specially designed for the truck box volume from 24 to 35M³ , or payload from 5 to 8tons. With standby added, the unit operates persistently without extra fuel cost and engine wear. it can be used on refrigerated trucks, chiller trucks, food trucks of many brands like Hino, Fuso. Isuzu, Tata etc.
We use the original QP, TM compressor, Danfoss valves to ensure that every detail of this model was under our strict quality control to guarantee a stable and long-lasting cooling life.
As a leader manufacturer who has 19 years experience in truck refrigeration units, Corunclima leads a way for innovative, efficient and cost-effective cold chain transportation. We can provide expert advice and efficient solutions&operations that are satisfied with every customer – whatever the need is, we can provide it.
Corunclima can be your trusted refrigeration solutions provider to help you expand your business and customer base.
Looking for long-term partners at info@corunclima.com.
TAG:&nbsp&nbsptruck refrigeration units