A New Batch of Large Direct Drive Refrigeration System Are Under Production
Author:Corun Date:2022/11/15
Recently, a new batch of large direct drive refrigeration system V850F/V1100F were under busy production in our factory for heavy duty refrigerated trucks.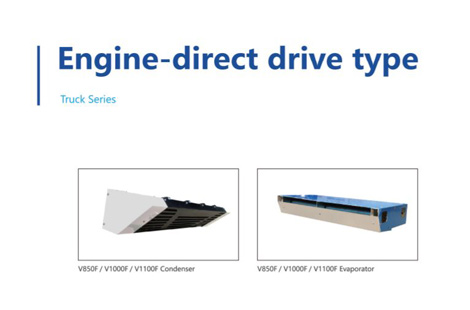 Corunclima direct engine drive refrigeration system is a kind of engine driven solution for 35-52M³ big truck body. Used for -20℃ freezer box, it is really a good choice for some customers who want to pursue a high cost performance.
Model V850F/V1100F have similar cooling efficiency as powerful as Thermo King T890R/Supra 850 or Thermo king V1000, Carrier Citimax 1100. They have 4 large evaporator fans, aluminum alloy blowers, which make a stronger air flow - 950m3/h and more than 5000 hours of life. In order to enhance its cooling speed, we use copper tube and aluminum fins with hydrophilic aluminum foil to make the water flows easily, ensuring the efficiency and fast cooling of the whole system. Now, from ambient 35℃ to -18℃ our units only need 2.5 hours.
The most important factor make it favored by customers is that they are more cost-effective and fuel-saving compared with diesel engine unit. These models have helped another client get more projects now, helping our partners to improve between 30% and 40% of the profits. For each truck, the profit will be at least USD4000. From this we can told you that the total product cost and operation cost of our unit is up to 50% lower than diesel engine unit.
Besides, to meet more partner's requirement, we offer additional 220V/380V electric standby to choose. With this, no matter your engine is on or off, you can let your truck cool all the time when you want. Till now, we have installed on Isuzu truck chassis, Hino 500, FVR240 etc. We have been running successfully in Southeast Asia and Latin America countries, and more and more cold-chain logistic companies transfer from the independent diesel engine self-powered refrigeration units to our models.
We are looking for partners in the whole market, no matter whether you are competing with equivalent direct drive models or replacing a self-powered diesel engine system, it is a good choice to think about. .Are you interested in joining us to improve your earnings or profits by 50-70%?
More details information, pls mail us info@corunclima.com
TAG:&nbsp&nbspdirect drive refrigeration system