Corunclima Electric Air Conditioner K20BS2 Installed in Mexico
Author:Corun Date:2022/11/18
FrioExpress installed Corunclima electric air conditioner K20BS2 in Mexico.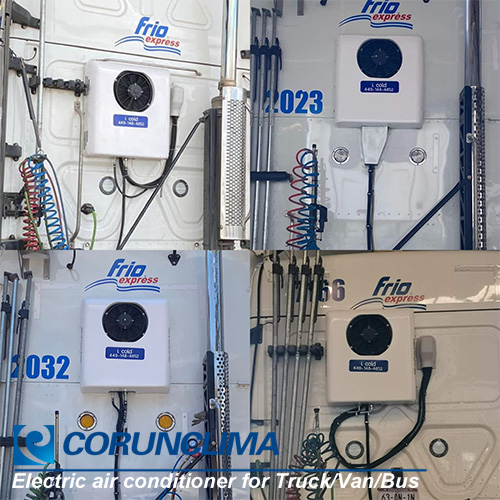 With 40 years of transportation experience, FrioExpress provides customers with total solutions for transportation and logistics needs. They chose to install Corunclima's electric APUs in the fleet's cabs to save fuel for their fleet, reduce fuel costs and operating costs, and improve operational efficiency.
Because of its excellent performance, K20BS2 is loved by truck dealers and truck logistics companies in Mexico, the United States and Canada. Because of its large cooling capacity (2.8KW/9500BTU), even in places where the US-Mexico border exceeds 50 degrees, the cooling effect is still very good.
Corunclima has always been committed to providing customers with the best products. K20BS2 accompanies truck drivers on long-distance journeys, and its service life is still as long as more than 10 years. We have strict requirements on our craft and are serious and responsible to our customers.
Old customers who have ordered goods in Corunclima know that we have our own factory, so the factory supplies directly, and there is no situation where agents charge the price difference, so we can easily reduce customer costs by more than 30%, and provide our customers with the most benefits of income.
The advantage of having your own factory is that it can effectively guarantee more professional and timely services to customers. Provide customers with the most comfortable purchasing experience. We can also provide free training on installation, operation, maintenance and repair, so that our customers can rest assured to buy and use.
Corunclima not only has this type of electric air conditioner, but also other air conditioning solutions and transport refrigeration solutions, with a variety of options to match the different needs of customers. If you are interested, you can send us an inquiry, and we will recommend the most suitable solution to you according to your description. Whether you need electric or engine-driven solutions, or diesel solutions, you can find them here.
For more product information, please click on our product website: https://www.corunclima.com/products/
We are looking for a long-term partner. If you are interested in our products or want to become our agent, we look forward to your contact: info@corunclima.com
TAG:&nbsp&nbsp electric air conditioner