Corunclima Truck Refrigeration Unit V350FE Installed on Isuzu QLR77 Chassis
Author:Corun Date:2022/11/22
Recently, Corunclima truck refrigeration system V350FE was installed for 10ft*6ft*6ft box on Isuzu QLR77 chassis in Southeast Asia.
Thanks for customer's trust, we are very glad to cooperate with each other, and in return, we will do our best to support our dealer's business.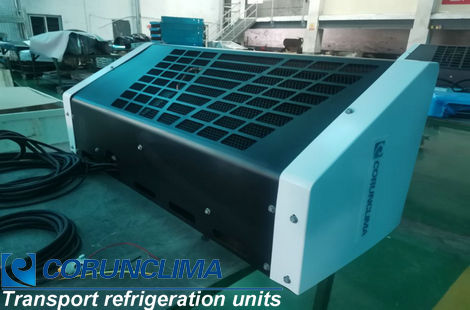 Truck refrigeration unit V350F perfectly covers freezer and chiller volume ranges from 8-20m³ for Minitruck, Pickup, Bakkie, and UTE vehicles. Deep frozen -20 ℃ for 10 m³ truck body, chiller + 5℃ for 20 m³ truck body. According our customers' feedback, this model has some incomparable advantages equivalent to Carrier Citimax 400, Hwasung HT100, Denso DS2, including excellent structure design, stable product performance, fast and deep cooling.
We have installed many successful cases on Isuzu D-max, QKR, NLR, Hino XZU series, Fuso Canter FE 71 etc. With an anti-corrosion condenser and powerful cooling capacity, this unit can provide adequate cooling and long-term stability for your transportation even in high-temperature and high humidity environments.
Corunclima pays attention to every detail to make sure a high quality. We use top brand parts such as Danfoss expansion valve, Castle solenoid valve, extending a longer lifetime. We use bigger evaporator size, bringing much more cooling in hot countries. We use slim condenser cover, so it won't touch the truck cab when tilting. We use water-proof and fire-proof wiring plugs & connectors to prevent electrical failure.
Moreover, advanced technology and reasonable design make sure the refrigeration unit to achieve the maximum results and sufficient cooling capacity. It can quickly cool down to -20℃ within 2 hours. As our condenser is installed at the front of the box, it is very easy to install. And this special design will reduce environmental emissions and noise.
If you want to make your truck box cooling when parked, we strongly advise you to buy a 220V electric standby. It is built-in condenser and easy to install. When truck engine is off, it can still keep the temperature inside the box when users are loading or unloading goods. While, split undermounted standby is also available if you want to reduce stock models, and can work with different brands of refrigeration units.
Production schedule is tight before Christmas, please place your order in advance.
More information, pls contact us @info@corunclima.com.
TAG:&nbsp&nbsptruck refrigeration unit