The Future of Transport Refrigeration: Corunclima All-Electric System
Author:Corun Date:2022/11/25
From vans to trucks, Corunclima all-electric transport refrigeration units offer different solutions to transport your cargo to the next stop at the perfect temperature! Come to know about C150TB/V150TB/C350TB/C450FB, our refrigeration unit that gives you peace of mind when transporting your cargo.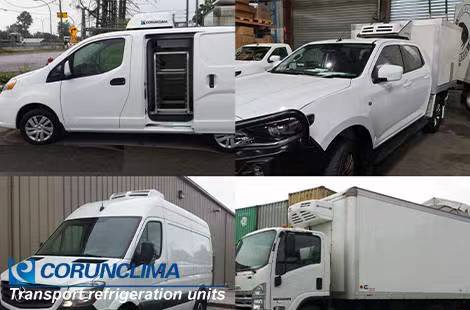 C150TB
Chiller(-5℃) for mini-size vans&trucks(3-5m³)
V150TB
Freezer(-20℃) for mini-size vans&trucks(3-5m³)
C350TB
Chiller(-5℃) for mid-size vans&trucks(6-8m³)
C450FB
Chiller(-5℃) for light trucks(12-14m³)
Choose your electric refrigeration unit with confidence. Corunclima is a proven choice in cold chain logistics with greater uptime and cost savings. A full line of electric transport refrigeration products provide customers' fleets with reliable and efficient transportation for efficient last mile delivery by installing in van, light commercial and truck units.
Inspired by our commitment to net-zero emissions, our electric refrigeration units combine design with energy-efficient technologies to provide flexible, space-saving solutions that help shape the future of the cold chain while reducing total cost of ownership. We are committed to a greener future with our refrigeration solutions.
Experience superior durability and increased efficiency for your fleet with the use of Corunclima electric transport refrigeration units. This is also our original intention of being customer-centric.
We not only have electric refrigeration units, we also provide customers with different solutions such as engine-driven refrigeration units, diesel engine-driven units, and electric air conditioners. It provides a variety of options for different needs of customers.
As a leader manufacturer who has near 20 years experience in truck refrigeration units, Corunclima can be your trusted refrigeration solutions provider to help you expand your business and customer base. We have lead a way for innovative, efficient and cost-effective cold chain transportation. We can provide expert advice and efficient solutions&operations that are satisfied with every customer – whatever the need is, we can provide it. Besides,We know our cooperation partners very well, we not only provide partners qualified products, but also the whole solution.Till now, we have helped more and more fleets expand the sales and consolidate their market place.
We are looking for long-term partners, welcome to contact us: info@corunclima.com
TAG:&nbsp&nbspall-electric transport refrigeration unit