20ft Container of Diesel Engine Refrigeration Units Are Under Busy Production
Author:Corun Date:2022/11/29
Corunclima is busy preparing 20ft container of Diesel Engine Refrigeration Units for our customers!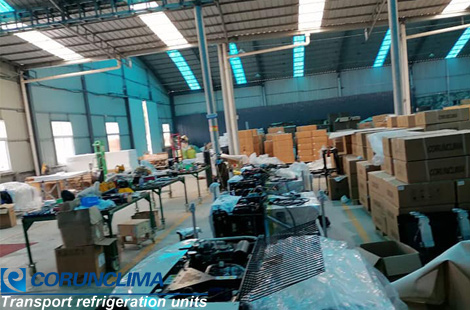 The new generation of diesel engine truck freezer unit D1000/D1200 was designed for cargo container with length 5-9.6m. Equipped with Yanmar engine 3TNV76, German GEA Bock compressor, the cooling capacity of this model is equivalent to Thermo King T1000 and Carrier oasis 350.
This model has an excellent cooling performance and powerful cooling power for heavy trucks. It can quickly cools the 50-60m³ box to -20℃ within 2 hours, which perfectly meet -20℃ 6.5m-9.6m frozen truck body. Electric standby is optional, 380V or 220V is available, with this, you can keep a sustainable cooling after the engine off. So far, we have installed on FUSO, JAC and VW truck chassis, the efficiency was highly praised by Latin American partners, South Africa partners and Southeast market partners.
Its durable quality has owned great reputation from our clients. In Southeast Asia countries, the conditions there are a little harsh: ambient temperature is up to 40℃, high humidity and high corrosion due to the geographic location close to sea, and serious vibration when running on road. But our unit performs steadily here, the reliability and stability are being proven and accepted very well.
Besides, all the parts we use is mainstream brand, easy to find in the market, bringing great convenience for your after sales. The engine is low noise, low fuel cost, and you have no need to worry about the complaint to the engine noise anymore when delivery some goods in early morning, and the advanced design will also save your cost on the fuel.
We have twenty years of quality, reliability and flexibility products and services. From small vans to large trucks, Corunclima refrigeration systems have helped more and more partners expand their sales and consolidate their market place. All of these systems can be combined with smart temperature controlling- which provide different levels of cooling for different use of chiller and freezer transportation.
We are the leading suppliers and installers of the highly innovative refrigeration range, the market-leading transport refrigeration system. If you have interest, please contact us to find out more the solutions here info@corunclima.com.
TAG:&nbsp&nbsp diesel engine truck freezer unit