Corunclima New Product Mobile Trailer Refrigeration Units C16E/R16E
Author:Corun Date:2022/12/02
Recently, Corunclima launched a new product for refrigeration units C16E/R16E on mobile trailers. C16E/R16E is the desirable and reliable chiller/freezer for mobile trailer with container size of 12 m³.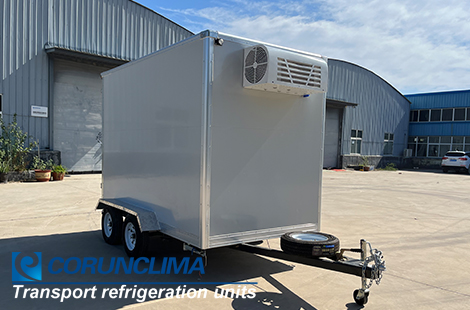 Corunclima mobile trailer refrigeration units are designed for mobile trailers, able to be plug and play and easy to install. Our units have a fast and stable cooling capacity, allowing for temperature regulation on demand. C16E is a chiller unit, the temperature can drop to -5°C; R16E is a freezer unit, the temperature can drop to -20°C. You can choose the unit that suits you according to different needs.
It has many advantages:
1. Optional AC110V /230V /380V voltage for your choice.
2. Easy installation. The plug-and-play design can also be powered by a generator, regardless of site constraints.
3. Stable cooling performance. Whether chilling or freezing, Corunclima's trailer refrigeration units are capable of fast, stable, temperature-controlled operation to meet your needs.
4. Wide application: Our trailer refrigeration units have a wide range of applications, including but not limited to food & beverage trucks at parks, campsites, fairs, festivals, and holiday resorts, family reunions, weddings, fruit and vegetable preservation, storage of fish and seafood, and etc.
We can also provide you with cooling trailers if you need them. The integrated supply of the cooling trailer and the unit allows you to use it more completely and smoothly. At the same time, installation, operation, maintenance and other after-sales services are connected more closely, which is more convenient for customers.
In addition to this new product, our company's other units and air conditioners are also worth knowing. Electric air conditioners, electric refrigeration units, engine-driven refrigeration units and diesel engine-driven dynamic refrigeration units, etc., whether you are a vehicle manufacturer, unit installer, or logistics company, we can create the most suitable cooling solution for you.
We have our own factory and Canadian R&D team, there is no doubt in product quality and technology update. Many customers have reached a long-term cooperative relationship with us. We are also continuing to work hard to find more partners, if you are interested in our products, please contact us: info@corunclima.com.
TAG:&nbsp&nbspMobile Trailer Refrigeration Units