165 sets Corunclima Transport Refrigeration Units Will Be Delivered to Middle East
Author:Corun Date:2022/12/05
Recently, 165 sets transport refrigeration units are in busy production and waiting for delivery.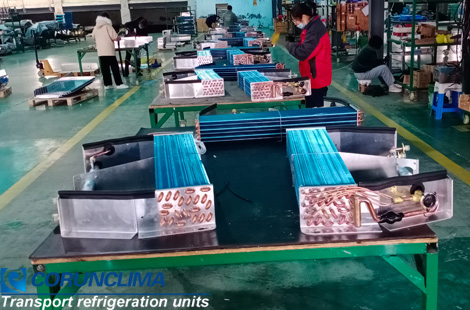 Corunclima C300T is a chiller unit for cargo vans 6-8M³. It can be installed on the roof of small, medium and large vans.
Model C300T is driven by the vehicle engine and the temperature can reach -5℃ for Chilling. It has 2 fans on evaporator, and can provide more cooling air and fast cooling rate.
Compared with other refrigeration unit for cargo van, our chiller units are more affordable and economic for some foods that only need for cooling, such cold drink delivery, vegetable distribution.
Van chiller unit C350T is an engine direct drive refrigeration unit, it is designed for mini size, midsize and big size chiller van, applicable for the fresh goods in medium-sized delivery vehicles with box volumes up to 16M³. It has a classical condenser rooftop-mount, evaporator ceiling-mount structure, providing you with a reliable and long life cooling function.
Besides, this model has a fast cooling speed and high cooling performance, the efficiency was proven even in tropical and humid areas.
Corunclima V350T is a rooftop van freezer system, widely used on the frozen cargo van, ice cream van, sea food van, refrigerated pick up. We use QP, Sanden, or TM original compressor, built with top quality key component to make sure a durable working life. It has been serving the customers from UAE to Qatar, also Mexico and Australia. Classic design and technology give it reliable cooling performance and durability. To deal with frozen goods, V350T is surely a trustworthy refrigeration solution.
Corunclima has twenty years of quality, reliability and flexibility services in transport refrigeration system. Our products have shown excellent operating status, high attendance rate, low failure rate, timely maintenance, etc., all of which were recognized by customers. In the future, we will continue to serve global cold chain transportation with excellent quality.
We are Reliable Partner Special in Engine/ Battery driven refrigeration unit for Truck/Van/Bus.
If you are interested in our truck refrigeration system, please feel free to contact us. info@corunclima.com
TAG:&nbsp&nbsptransport refrigeration units