C450FB Take All Electric Power to Advance Local Delivery
Author:Corun Date:2022/12/09
The all electric truck refrigeration unit C450FB is our innovation in transport refrigeration for local food distribution. All electric drive, energy saving and emission reduction, low power consumption and simple installation methods all help us to help customers maintain a high level in reducing environmental impact and improving the efficiency of last mile delivery.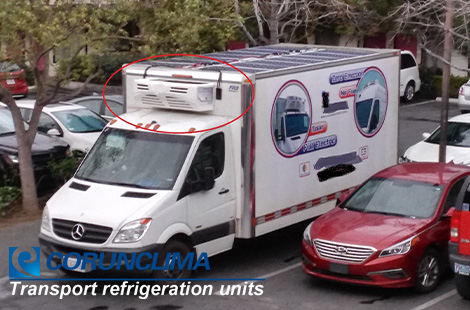 C450FB uses electric power to meet the requirements of energy saving and emission reduction in various regions by not using fuel. At the same time, less power consumption is another way to save energy.
C450FB is an innovative and energy-efficient solution. This is an important product of Corunclima's commitment to provide high quality sustainable temperature control solutions. Such solutions strengthen the cold chain and create value for customers while helping them reduce their carbon footprint.
The improved operational efficiency of the C450FB leverages the proven performance and reliability of the Corunclima. The continuous update of the control system provides precise temperature control; rapid cooling, and the temperature can be quickly restored by opening and closing the door many times; saving fuel and saving maintenance on the engine. Add to this the convenience of not having to install a mechanical compressor due to the electric drive, making the C450FB an ideal investment for refrigerated truck installer and chiller installer customers.
Benefits of electric refrigeration unit include:
● Designed for last-mile delivery
● Cost saving - saving fuel and controlling costs
● Easy to install - no need to install a compressor
● Environmental impact - emissions are lower than engine driven units
● Quieter operation - more suitable for inner city transport and night transport
● Less maintenance - less engine running time
In addition to the C450FB unit, there are other units for vehicles of different sizes such as C150TB, V150TB and C350TB. Among them, V150TB can be used for freezing requirements at -20°C. Corunclima has invested a lot of research on the electric refrigeration unit series, and has achieved great results. Many customers have reached long-term cooperation with us.
Are you interested? It's a pleasure to have you contact us.
We are very much looking forward to having you as our agent partner, and we are also very happy to provide you with the help we can in your business. Contact us: info@corunclima.com
TAG:&nbsp&nbspelectric refrigeration unit