Corunclima Transport Refrigeration Unit Helps Global Cold Chain Development
Author:Corun Date:2023/03/17
As a leader in the field of transportation temperature control, corunclima has always been innovating in products and solutions, providing customers with reliable and efficient refrigeration products, and helping the healthy development of cold chain businesses around the world with high-quality cold chain equipment and solutions. Our range of transport refrigeration units are highly rated.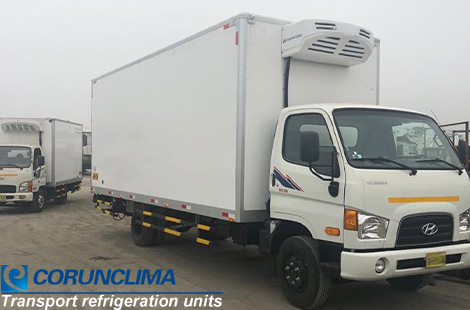 The ultra-thin condenser is adopted, which has high efficiency, small size and light weight; the ultra-thin design of the evaporator greatly reduces the weight of the unit and provides more cargo space. The series of transport refrigeration units cover the application of large, medium and small refrigerated vehicles, and continue the advantages of Corunclima's consistent high efficiency, reliability, and environmental protection. It is your best choice for refrigerated transportation solutions!
The cold chain is crucial to ensure that food is transported in the right condition until it reaches the customer. It requires specialized skills and knowledge that only industry experts can provide. In high temperature environments, the effect of maintaining the cold chain is more important than in other regions. Corunclima transport refrigeration units provide sufficient cooling capacity and air flow to provide reliable protection for perishable cargo. Corunclima transport refrigeration is committed to escorting customers' cold chain transportation and reducing the impact on the environment.
Our transport refrigeration units include engine-driven units, all-electric refrigeration units, diesel engine-driven units, etc., which can meet your different needs. The factory supplies directly, and there is no middleman to earn the price difference, saving you more than 20% of the cost. Not only the price is low, but the product quality is not compromised. Every carefully selected component and every process is the key to gaining customers.
When you choose Corunclima products, you also have the opportunity to improve your business. Corunclima has partners in many countries and regions. After establishing cooperation, we can reduce costs and increase sales of refrigerated vehicles for you. We provide you with high-quality transportation temperature control solutions. We have rich practical experience and provide you with reliable and high-quality services.
If you are interested in our transport refrigeration units, welcome to contact us to learn more: info@corunclima.com.
TAG:&nbsp&nbspTransport Refrigeration Unit