Corunclima Pickup Refrigeration Unit V350F Received a Positive Response From Our Customers
Author:Corun Date:2023/03/14
Recently, Corunclima pickup transport refrigeration unit V350F was installed on a Ford Transit cabin chassis in Jalapa to satisfy the cooling needs for our clients. After a period of testing, they were impressed by the fast temperature pull-down, high performance and reliable operation of our units.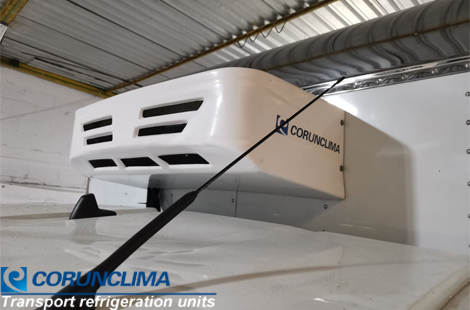 Directly powered by vehicle engine, Model V350F has a strong cooling capacity 2.2KW, It is commonly used for transportation of fresh or frozen goods in pickup truck or small refrigerated truck with cargo space from 6-12M³. With refrigeration control from -5℃ to -20℃, no matter how far produce travels, we can offer you the right temperature. Even if at the high temperature and high humidity environment in Middle East and North Africa, its performance far exceeds customer's expectations.
Quality, reliability, flexibility and durability. you can always rely on Corunclima refrigeration to assure your goods arrive well and fast. Backed by years of experience, we devote to work for our customers with superior services and qualities guarantees. We use eco-friendly R404A and R134A refrigerant which can perform well separately in frozen efficiency and auxiliary effect of system lifespan extension. We use aluminum condenser coil with 2 times anti-corrosion treatment, extending a longer lifetime 8-10 years. We use top brand Danfoss expansion valve, Castle solenoid valve to make sure the quality.
Considering some parking situation, Corunclima offers optional electric standby configuration for an efficient and quiet operation. It can deliver constant cooling capacity regardless of vehicle engine-off. To ensure your goods remain fresh, we innovate a wide range of transport options to satisfy all of your business needs. Whether you need direct-drive or electric units, we surely have the perfect solution for you!
The future waits for no-one. Time is running out for you to be a part of the evolution of Advancer. We're proud to stand by our partners to bring efficiency and safety on cold chain transport. If you are looking for an efficient refrigeration unit, contact us today and discover more diversity of our solutions through: info@corunclima.com.
TAG:&nbsp&nbsp pickup refrigeration unit