Corunclima Sustainable All-electric Refrigeration Units Gaining Popularity
Author:Corun Date:2023/03/10
At Corunclima, we provide safe, sustainable and smart transport refrigeration solutions to customers all over the world. Among them, the electric refrigeration unit series is a high-quality choice.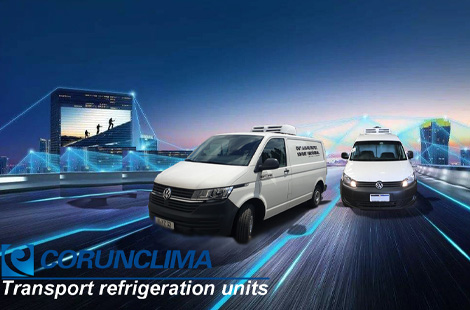 The future of all-electric transport refrigeration is more efficient, sustainable and innovative than ever. The precise and reliable temperature control of Corunclima all-electric refrigeration units makes electric refrigeration solutions the perfect choice to keep your cargo safe and sound. Corunclima all electric transport refrigeration unit, designed for last-mile deliveries, cools down fast and is quiet and efficient! Even in urban areas, night deliveries are possible without disturbing the rest of residents.
The all-electric driven refrigeration system saves fuel for you, and also uses energy-saving technology to keep less power consumption. At the same time, you can also choose 400AH lithium battery to ensure higher work efficiency. It is also optional if you need heating. We strive to provide customers with various technologies and services.
We provide direct supply service from the manufacturer, without any middleman earning the price difference, reducing the cost of our customers by more than 30%. There is also direct service from the factory, which is more professional and timely. We can also provide free training on installation, operation, maintenance and repair technologies to shorten the entire installation process for customers.
We will exhibit our all-electric refrigeration unit at this year's EXPO PROVEEDORES DELTRANSPORTE Y LOGISTICA in Monterey, Mexico. The exhibition time will be from May 17th to 19th. We sincerely invite you to come to the exhibition and stop by our booth 630 to meet us face to face communication.
Not only electric refrigeration units, but also the sales of our engine-driven units, diesel engine-driven units and electric air conditioners are in the leading position in the industry. Good products and good service create our good image in the hearts of customers. If you have experienced it, you will definitely agree with this statement.
We hope to have more long-term and large-scale cooperation with you and become our agent, we will provide you with more preferential treatment and development opportunities. Welcome to contact us: info@corunclima,com
TAG:&nbsp&nbspall-electric refrigeration units