Corunclima Invites You to Visit Us at EXPO PROVEEDORES DELTRANSPORTE Y LOGISTICA
Author:Corun Date:2023/03/07
Corunclima is excited to be exhibited on booth 630 at the EXPO PROVEEDORES DELTRANSPORTE Y LOGISTICA in Mexico.
Come and visit us from May 17th to 19th to experience our van and truck transport refrigeration units, from direct-drive to self-powered, including full-electric models.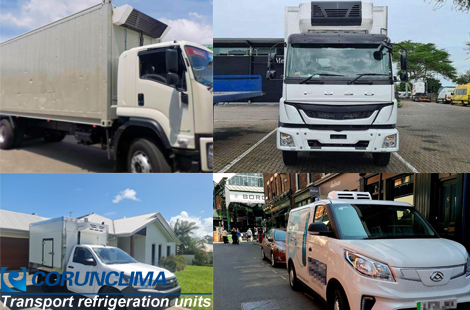 The main challenge in the cold chain supply chain is that products must be continuously kept at the stable fresh or frozen temperature across the entire transport to ensure their safety. Corunclima is proud to create refrigerated solutions that matter for people and our planet, allowing food, pharmaceuticals and perishable goods to reach people without spoilage, waste and costly recalls.
We offer various types of refrigeration units that are fast and stable, environmentally friendly, energy-efficient, and durable.
For the last-mile delivery use, Corunclima full DC12V electric refrigeration solutions provide a sustainable cooling performance with lower delivery cost and minimal maintenance. Whatever your fleet vehicles are engine or electric, it is the best choice to equip an electric refrigeration unit (electric-fridge). Compared with the conventional units, the electric models don't need to install compressor on engine, greatly shorten the installation time, reducing engine wear and releasing engine power. Driven by vehicles-battery directly, it is fuel-saving when loading&unloading goods and perform full cooling even engine idling or engine-Off.
Similarly, we also have the engine drive transport refrigeration unit for you to choose. From 2.5m³-70m³van or truck box, from fresh to deep frozen, we have different options to suit your business. We have installed many cases in Africa, Southeast Asia, USA, South America, even in some areas where the temperature is 50℃, 100% high humidity and high salt, after 3+ years working, the most feedback from customers are: cooling really well and reliable.
We have been making it our mission for over 20 years to provide cost-effective transport temperature-control solutions. Depend on the strong cooling capacity and fast cooling speed, we deliver peace of mind to our customers by ensuring temperature-sensitive goods make it to their destinations safely and efficiently.
With the coming of the exhibition, Corunclima was delighted to meet you and discuss our latest innovations for an intelligent cold chain! Connect with our team for more information by email: info@corunclima.com.
TAG:&nbsp&nbsptransport refrigeration units