Diesel Engine Truck Freezer Unit Protects Frozen Foods
Author:Corun Date:2023/03/03
In addition to the frequently mentioned engine-driven refrigeration units, our diesel engine-driven freezer unit D1000/D1200 also has a high praise rate. The following picture shows D1000 installed on a large cold chain transport truck. Our customer is very satisfied with its cooling effect.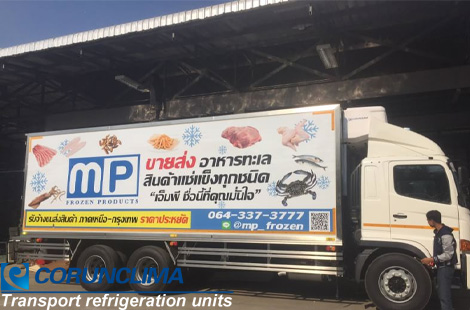 As can be seen from this picture, D1000 is installed on this truck mainly to transport frozen products such as fish, shrimp, chicken, and beef. Everyone also knows that this kind of food is extremely easy to deteriorate and rot in high temperature weather. Once the food deteriorates, it means that the transportation has failed. For suppliers, logistics companies and merchants, it is not a small loss. In order to prevent such things from happening, the customer purchased a batch of D1000 with good cooling performance from us. He said that after using our unit, the melting and deterioration of frozen products did not occur again.
D1000/D1200 is suitable for trucks with a cargo container length of 5-9.6m. With its excellent refrigeration effect, it escorts frozen food all the way. It uses low noise, low fuel consumption Yanmar engine and Bock compressor, leading brand engine and compressor guarantee performance. Mainstream brands, easy to buy in the market, and convenient after-sales. Even deliveries in the early hours of the morning, don't worry about engine noise complaints, and the advanced engine will also save the user's fuel costs.
After continuous research and development and innovation, our large-scale refrigeration units have achieved a qualitative leap. Regardless of the quality or appearance, it has won the favor of customers. We will not stop here. Next, we will invest more time and energy to develop and improve more large-scale refrigeration units, and make changes and efforts to meet the needs of customers.
Not only diesel units and engine-driven units, but also our all-electric refrigeration units are in a new development momentum. In terms of sustainability, energy saving and emission reduction, electric refrigeration units have obvious advantages. You are welcome to come and understand. Corunclima has an extensive range of transport refrigeration units to suit your business needs. Whether you're looking for a small, medium or large truck refrigeration unit, we've got you covered.
Welcome to consult us: info@corunclima.com.
TAG:&nbsp&nbspDiesel Engine Truck Freezer Unit