Corunclima Provides High Quality Truck Refrigeration Unit V350F to Satisfy Customers
Author:Corun Date:2023/02/28
Corunclima is constantly seeking ways to help our customers succeed, and that starts with our effective and safety transport refrigeration solutions.
For the cargo space from 8-20m³, we often recommend you the engine driven truck refrigeration unit V350F that have an amazing cooling capacity and fast cooling speed to keep your temperature-sensitive products fresh in excellent conditions and with great flavor.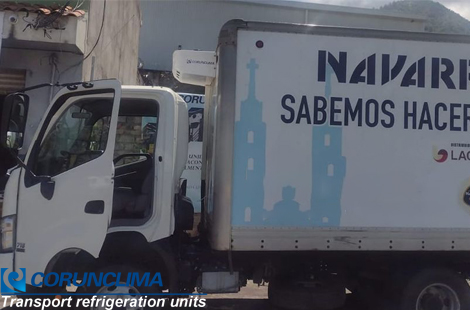 Model V350F is the most best selling cooling solution for Minitruck, Pickup, Bakkie, UTE vehicles, meeting the requirements of different frozen or fresh goods very well. -25℃ freezer for 6-7M³ truck body, -5℃ chiller for 12-14M³ light truck. We have a strong cooling capacity 2250W/7690Btu and can pull down to -25 ℃ in 2 hours.
As a trusted partner for light refrigerated trucks, our solution has many advantages as follows:
1. Aluminum condenser coil with 2 times anti-corrosion treatment, with longer lifetime, suitable for countries close to sea
2. Bigger evaporator size, suitable for hot countries(UAE, Southeast Asia)
3. Danfoss expansion valve, Castle solenoid valve, make sure the quality.
4. Water-proof and fire-proof wiring plugs & connectors, suitable for rainy places.
With twenty years' experience, Corunclima is constantly innovating to bring customers reliable and high performance refrigeration solutions for cold chain transport. According to the feedback of Model V350F, customers were impressed by its excellent temperature control, stable cooling performance and durable lifespan. Over these years, we have already installed on Hyundai H100, KIA, JAC, JMC, VW, ISUZU truck chassis and became very popular in Mexico, Chile, Peru, Colombia, Uruguay.
Corunclima fully understands that every business has unique challenges and requirements for their refrigerated transport needs. To reduce the total cost of ownership, we supplied all our products directly from factory, saving at least 50% import cost for you. Now, we're looking forward to bringing our customers another year full of innovative and reliable technology in 2023. Are you interested in joining us?
If you want to know more about our products that support your refrigerated transport fleets, pls feel free to contact us by email: info@corunclima.com. We will give you a very cost effective solution based on your needs!
TAG:&nbsp&nbsptransport refrigeration units