Corunclima Direct Engine Drive Refrigeration System V1100F
Author:Corun Date:2023/08/15
Corunclima truck refrigeration unit V1100F is our most powerful direct-drive unit, providing refrigeration for box trucks of up to 28 feet in length. It is equivalent to Thermoking V1000, Carrier Citimax 1100 and has been running successfully in Southeast Asia and Latin America countries.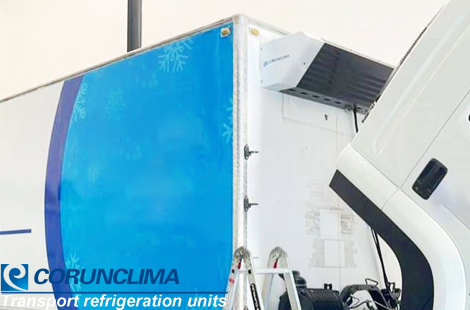 As a much affordable refrigeration system when compared with diesel powered truck units, Corunclima direct-drive system offers an economical alternative to other options for medium to large box trucks. The Whole system cost and operation cost is up to 50% lower. It offers total flexibility, unmatched performance and premium reliability, providing superior fresh and frozen protection for box trucks and large vans.
Corunclima has partnered with different manufacturers to ensure vehicle compatibility along with the most efficient cooling performance. Whether it's a fleet or a single refrigerated truck, you can trust these truck refrigeration units to perform continuously day after day, year after year. The competitive advantage with our unit is maintaining the cold chain and providing longer shelf life and overall quality for products. Whatever solution you choose, we offer quick responses and shorter lead times. With Corunclima you'll get reliable temperature control, worry free operation, better customer service on every truck refrigeration system.
We deliver a variety of transport climate control solutions that make the world a fresher and more greener place. We design and manufacture, so Corunclima can easily customize a truck refrigeration unit to meet your client's unique temperature needs. You'll sleep better at night knowing your fresh and frozen goods are safe, kept at perfect temperature by our reliable direct engine drive refrigeration units.
Our team truly believe that collaborations and partnerships are the way forward. We are proud to lead the way in developing fast cooling speed, high operational efficiency transport refrigeration units! Looking forward to creating more possibilities for customers to improve safety, convenience and performance for their cold chain transport.
TAG:&nbsp&nbspdirect engine drive refrigeration system