Corunclima offers precise temperature control for last mile delivery
Author:Corun Date:2023/08/22
Corunclima full electric self-powered refrigeration units are used for normal engine truck and class 3 to 7 EV trucks, included extra batteries. All of these models save full of engine, release engine power and lower operation cost, offering precise temperature control for your last-mile delivery.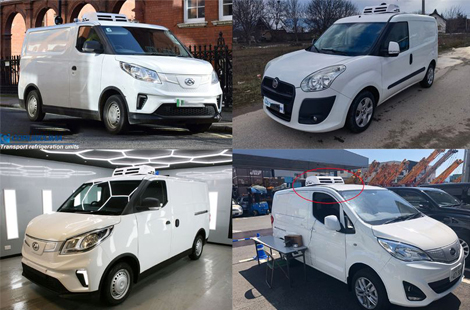 For us sustainability is at the core of all the solutions we design, develop, and deliver. The improved operational efficiency of Corunclima electric refrigeration solutions leverage the proven performance and reliability. The continuous update of the control system provides precise temperature control; rapid cooling, and the temperature can be quickly restored by opening and closing the door many times; saving fuel and saving maintenance on the engine. Add to this the convenience of not having to install a mechanical compressor due to the electric drive, making our battery powered units an ideal investment for refrigerated truck installer and chiller installer customers.
Designed for refrigeration duty, Corunclima has a wide range of options to provide flexibility suitable for a variety of applications. With Corunclima electric refrigeration solutions, you can ensure the accurate and efficient temperature control at all times. We have a suit of complete truck refrigeration systems to improve your uptime & efficiency, ensuring your goods keep moving and are delivered safe and sound.
As a leading manufacture of Commercial vehicles temperature control system, from 2016 year, we partner with our customers to build a sustainable world for future generations. We have obtained European ATP and CE certification, and have won the trust of BYD T3, Maxus e-deliver3 (EV30), Renault Kangoo, Nissan e-NV200, e-sprinter etc electric vans and trucks. Those units have been running successfully in Canada, US, Mexico, Australia, South Africa, Japan, Germany, UK etc.
If you are logistics companies and food factories, choosing DC electric refrigeration system is a sensible option. Corunclima always insist on offering reliable and durable products with high efficiency. Contact us to discuss more details at info@corunclima.com.
TAG:&nbsp&nbspdc electric refrigeration unit