Corunclima Truck Refrigeration Unit V650F Sets Higher Standard For Cold Chain Solution
Author:Corun Date:2023/09/12
Corunclima truck transport refrigeration unit V650F is a front mounted refrigeration unit. Designed for 24-35M³ refrigerated trucks, chiller trucks and food trucks, it is widely adopted by the cold-chain logistics companies related to dairy, vegetable and fruit, fish meat etc. Due to the excellent reliability and high standard of cooling performance, model V650F is really a desirable and reliable refrigerated choice during your long transportation distance.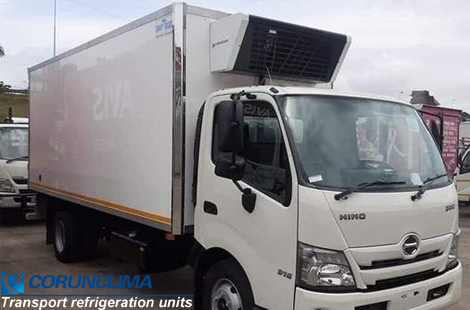 We have always been improving our technology and solutions for the benefit of our clients. The latest version of V650F has new aluminum alloy condenser cover, bigger fan and bigger coil. The cooling efficiency was improved by 30%, and the cooling speed is much faster than before. We adopt original QP, TM compressor as the spare parts, which guarantee the product quality to the cooling system, extending its lifespan as long as 10 years.
Our team is very glad to receive more and more trust from different partners, and we are also proud to see more and more projects running successfully in the world. Model V650F has been installed on many different truck brands, such as Hino, Fuso, Isuzu, Tata, etc. Even in countries and regions with high temperature, high humidity and high salt, it can work very well.
Corunclima refrigeration system V650F sets a higher standard for truck systems and reduces fuel consumption, emissions and noise levels. With it, you can choose reliability with confidence while maintaining strong refrigeration efficiency.
Over the past 20 years, we insist on focusing on performance, quality, service and strive to give our customers the best experience! Renowned for the dependable performance and durability, Corunclima temperature control solutions allows customers to meet their cold chain requirements while lowering the fleet ownership costs. In the following days, we will continue to drive improvements in the cold chain to solve critical challenges and seize new opportunities to make a positive impact for our planet and people around the world.
We have the capability and flexibility to ensure the support that your business needs. Get in touch today to learn more about our fleet of refrigerated logistic solutions, both electric and engine powered: info@corunclima.com.
TAG:&nbsp&nbsptransport refrigeration units