Electric Truck Air Conditioner K20BS2 Adopted by Fleet in Mesoamerica
Author:Corunclima Date:2017/11/17
As Thanksgiving is approaching as well as following Christmas, logistical intensity starts to rise in recent days. Mr. Sebastián took his time to refer recent service case to us. Obviously, local fleet company is preparing for upcoming shopping enthusiasm by deploying more trucks and trailers to increase transport capacity and efficiency. Our electric truck air conditioner K20BS2 easily won the bid among several competitors in local market since successful marketing development and stable cooling performance in more and more truck cabs. The installation and test operation is ongoing because more than 20 trucks need to be installed.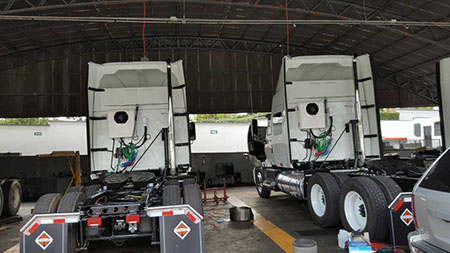 All trucks are International Brand RH series. It seems to appear many times in our recent cases for its popularity in local market. It is the symbol of productivity in local and regional haul applications. The external and internal design takes thoughtful consideration of drivers. Its tight turning radius and superior visibility makes maneuver in tight spaces become much easier. Another reason of its popularity would be its cost-effective. The original International A26, a 12.4L engine designed to deliver optimal uptime as well as leading fuel efficiency, reduced weight and quiet operation. Since previous installations of K20BS2 for International RH truck, we are impressed by its all-new harnessing and all-new in-cab power distribution model design in cab wiring, it makes wiring connection of K20BS2 to original vehicle electric system spend less time and energy. All connection works has become routine and standardized sockets and plugs match to each other. Usually the electric system of truck is 12 V and our partner has K20BS2 12V type sufficient in stock for incessant orders. For power source of K20BS2 is electricity, we must take original vehicle alternator and battery system into serious consideration. These two parts are heart and soul for K20BS2 best cooling performance in the cab. This batch of International RH trucks equipped with Bosch 12V, 165Amp alternator and 3 pieces of original International battery with 1,950-3,700CCA (cold cranking Amps). Even some problems may happen on original battery pack, which make them malfunction, our partner have alternative whole new battery for replacement.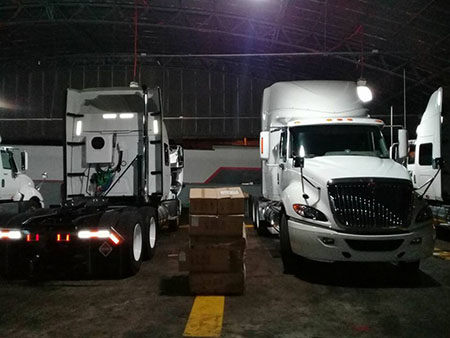 56" hi-rise sleeper model for RH series offers capacious space for driver's daily activity as well as enough room for extra-added gadgets. Truck sleeper air conditioner K20BS2 would easily find its position of evaporator in the cab as well as make driver find their truck become cozy mobile home already.
Maybe Mr. Sebastián still has to take some time on this time installation and service, and oversight of our following emails will continue to happen. But we would like to wish him and his engineering teams with an early but genuine Thanksgiving wishes!
* Alias has been used in the news for commercial secret protection.
You are also welcome to Corunclima on Facebook & Google+!
Zhengzhou Corun. Tech. Co. Ltd., & Corunclima
With nearly 20 yrs' exp. in R&D and manufacture in transport refrigeration unit and all-electric air conditioner, Corunclima gradually evolves from manufacturer to professional consultant of eco-friendly, cost-effective, customizable transport cooling solution.