Transport Refrigeration Unit Maintenance Tips
Author:Corunclima Date:2017/11/15
To have transport refrigeration unit best cooling performance and longer lifespan, routine maintenance is necessary. It just like daily nutritional microelement must be included in diet, its effect may be invisible day by day, but their shortage is still harmful to entire health. We have some tips about transport refrigeration unit maintenance below.
A. Proper check and maintenance must be done before operation of transport refrigeration unit to ensure its operational stability.
1. Fix any possible loose fixations or connections;
2. Check pulley, belt, and evaporator fan for any possible entanglements or contact with any other spare parts;
3. Check condenser, evaporator, and heater exchanger for external attachments. Clean dust and any possible attachment with high pressure air;
4. Check compressor for possible oil leakage. Recharge lubricant after troubleshooting;
5. Do not cover air vent or air inlet when loading cargo into compartment. Keep cool air circulating evenly in the compartment.
B. After 100hrs'operation, transport refrigeration unit shall be checked and maintained timely.
1. Check belt on compressor. Tighten it when found loosening;
2. Check all wirings to ensure tight connection of all junctions;
3. On condition the reefer truck/van has not been started for quite a long time, transport refrigeration unit should be activated for 1-2hrs monthly.
C. Common approaches during maintenance
1. Accessible tools for Leakage check:
1.1 Leak detector. It will alarm when leakage detected.
1.2 Suds. Dissolve a little bar of soap in warm water. Paint suds with brush on all connections of the system. Bubbles appear in a connection indicate the leakage.
Note: If the leakage is slight, check may need to be conducted for several times.
2. Adjust expansion valve. Remove the cap on expansion valve. Insert slotted screwdriver into screw channel of expansion valve. Turn it down with clockwise rotate and turn it up with anticlockwise rotate. Cover the cap after adjustment finished.
D. Notices when turn on/off the unit
1. Turn on transport refrigeration unit after vehicle engine operate stably. Turn on the unit before stable operation of engine is forbidden.
2. Turn off transport refrigeration unit before vehicle engine shut off. Turn off the unit after vehicle engine off is forbidden.
Corunclima Electric Truck Refrigeration Unit C450FB for Stationary Reefer Container: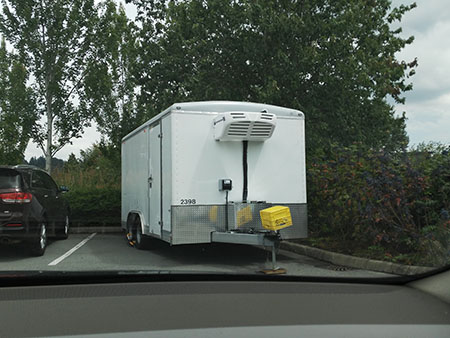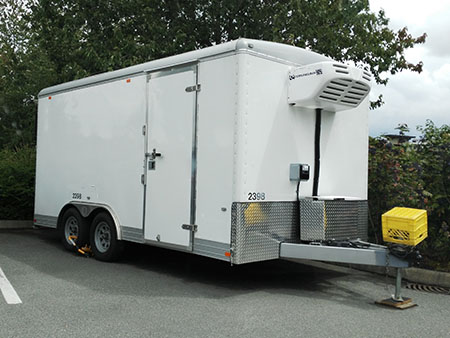 * Alias has been used in the news for commercial secret protection.
You are also welcome to Corunclima on Facebook & Google+!
Zhengzhou Corun. Tech. Co. Ltd., & Corunclima
With nearly 20 yrs' exp. in R&D and manufacture in transport refrigeration unit and all-electric air conditioner, Corunclima gradually evolves from manufacturer to professional consultant of eco-friendly, cost-effective, customizable transport cooling solution.