Electric Truck Air Conditioner T20B Installed for Toyota Hiace Cargo Van
Author:Corunclima Date:2017/09/28
In our all electric truck air conditioner product series, T20B is most versatile and adaptable one for multi-functional cooling need inside driving cab. Since it is an evaporator, condenser all roof mounted truck ac unit, it could be easily installed for truck and trailer as well as construction and agricultural machinery. But this time, Mr. Sebastián, our partner in Mesoamerica, inspires us again by installing truck cab air conditioner T20B for cargo van.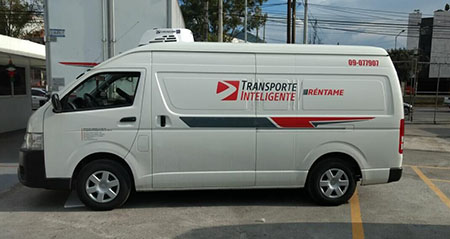 The client came to Mr. Sebastián for cooling solution for his Toyota Hiace cargo van. The van will be used for loading some cargo with relatively cool storage environment. Of course, the client also would like to have some cool air for himself. In consideration of inside space is not large enough for our electric air conditioner for van and bus since van/bus ac unit has larger cooling capacity for more passengers as well as requires higher electricity from original vehicle alternator, Mr. Sebastián turns to truck air conditioner T20B installing for the van. Spacious area of van roof is abundant for T20B mounting size. The Fans of evaporator is adjustable for cooling both in driving cab and cargo area since they do not separate. Moreover, T20B is much like an alternative transport refrigeration unit for the cargo because the client prefers to load them in lower temperature. As he does not have exact demand on cooling temperature for his cargo, T20B is competent to perform cooling need both for drivers and cargo.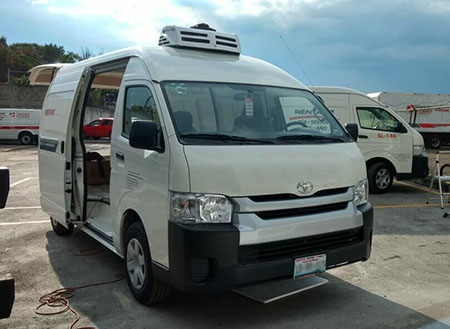 Electric truck air conditioner is usually required of continuous cooling time, which correspondingly required the truck should be equipped with enough batteries to ensure that. But for this case, the van will only be used to transport for short and medium distance in urban and suburban areas. Without demand of whole night sleep in sleeper cab, the original electric parts of the van are enough for the operation of T20B. The alternator is 80amps, 12V and CCA 630A battery capacity is 70Ah is compatible for T20B. As low voltage protect function of T20B, it will not affect the start of engine.
* Alias has been used in the news for commercial secret protection.
You are also welcome to Corunclima on Facebook & Google+!
Zhengzhou Corun. Tech. Co. Ltd., & Corunclima
With nearly 20 yrs' exp. in R&D and manufacture in transport refrigeration unit and all-electric air conditioner, Corunclima gradually evolves from manufacturer to professional consultant of eco-friendly, cost-effective, customizable transport cooling solution.