Built-in standby transport refrigeration unit V650FE in South America
Author:Corunclima Date:2017/10/04
Mr. Maikel, our regular client in northern part of South America, brings us good news with recent installation of transport refrigeration unit with built-in standby unit V650FE.
His clients run a shrimp farm by the sea. For the convenience of transport shrimps to the local market, dozens of Isuzu trucks equipped with insulated container have purchased. Next, they come to Mr. Maikel for recommendation of transport refrigeration unit. Container size is about 30m³ and the temperature inside container during transportation should be kept at 1-3℃ so the ice inside the box for shrimp melts slowly. Transportation for shrimp required drained raw shrimp packed in ice in shallow box. The ice and shrimp will be alternately and successively placed and added in layers until the box is full. With required temperature and cold storage above, shrimps will keep in good condition for up to 4 days. Besides, the clients also hoped to find some better cooling solution that enables transport refrigeration unit keeps on working while vehicle engine off. This could tremendously decrease the noise and fuel cost. After received all demands from the client, Mr. Maikel recommend built-in standby transport refrigeration unit V650FE for them.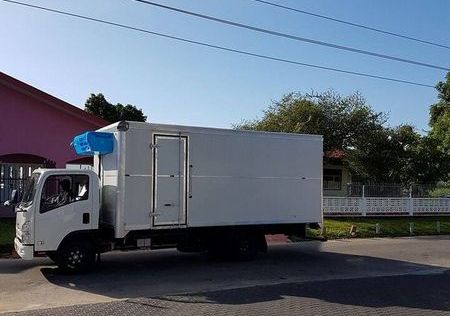 Why choose this one? V650FE is freezer unit for 24-26 m³ container of reefer truck. Considering of clients' required temperature is above 0℃ though container size is larger than which for V650FE performing as freezer unit, V650FE could work as a chiller unit for the container. Compared with traditional transport refrigeration unit and standby unit split type, truck refrigeration unit V650FE contains standby unit inside condenser, thus time spend on adding standby unit at the chasis has been wiped off. Most importantly is that V650FE could be directly connected to AC charging pile or stationary electricity supply with inside converter. Thus shut off vehicle engine while cargo loading or unloading has become reality.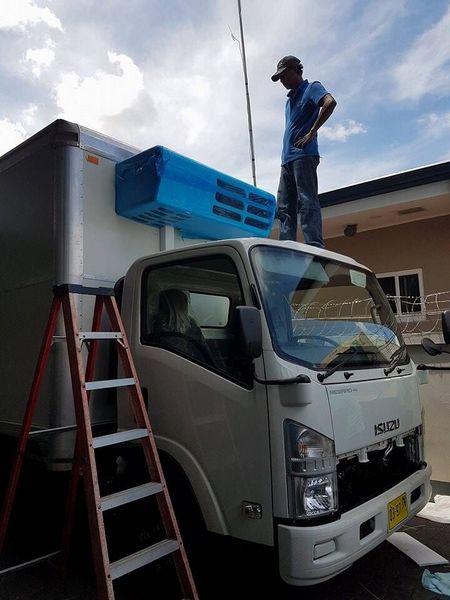 Local relative humidity is between 80% and 90%, the ambient temperature is around 34℃, the clients saw the whole procedure of onsite operation of V650FE. As far we have not received the correct information about time cost of cooling down to targeted temperature yet, at least the client satisfactorily drove away their new reefer truck with built-in standby transport refrigeration unit V650FE.
* Alias has been used in the news for commercial secret protection.
You are also welcome to Corunclima on Facebook & Google+!
Zhengzhou Corun. Tech. Co. Ltd., & Corunclima
With nearly 20 yrs' exp. in R&D and manufacture in transport refrigeration unit and all-electric air conditioner, Corunclima gradually evolves from manufacturer to professional consultant of eco-friendly, cost-effective, customizable transport cooling solution.