Electric Truck Air Conditioner K20BS2 for International Lonestar Truck
Author:Corunclima Date:2017/10/10
Recently Mr. Alberto referred to us that he had participated in local transportation expo to exhibit our electric truck air conditioner and transport refrigeration unit. As he had been busy these days for affairs in the expo, it is a little pity that we did not receive any photos from his about the expo. Fortunately, we got recent installation case instead. It is an installation case about electric truck sleeper air conditioner K20BS2 for International Brand truck Lonestar series.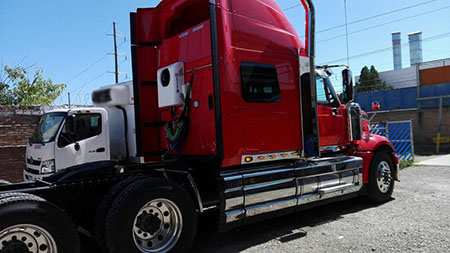 No matter in specialized delivery, long haul, heavy haul, or regional haul, this brand truck is always appreciated by drivers with its improved ergonomics, ingress and egress for a smoother ride with a tough haul. Besides, integrated 73'' Hi-Rise Sleeper makes it also a comfortable mobile home for the driver especially in long haul driving. The spacious sleeper improves overall comfort and accessibility, including ample cab headroom and legroom for daytime activities.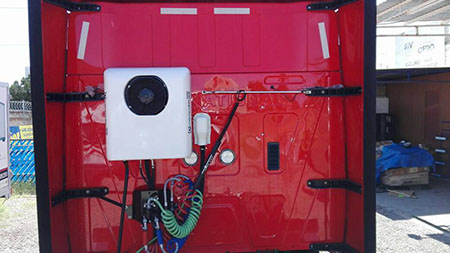 Now with Mr. Alberto's help, our electric truck air conditioner K20BS2 enables the client to have a premium cooling and ventilation solution for his mobile home. First electric specs of vehicle shall be checked. With Bosch alternator 12V, output current ranges from 160 to 200 Amp, compatibility of K20BS2 with the truck will not be a problem. Battery packs of genuine batteries of 12V 1,950- 3,000 CCA power source enables the truck ac unit to keep on running for 6 hrs after shut off the engine. After installation, the client turned on K20BS2 by control panel inside sleeper. After about 20mins, the whole space has been cooled down. Though cool wind could be felt when approaching air vent, no extra noise could be heard except the sound of wind. Operational noise has been reduced to minimum with unique noise reduction technology.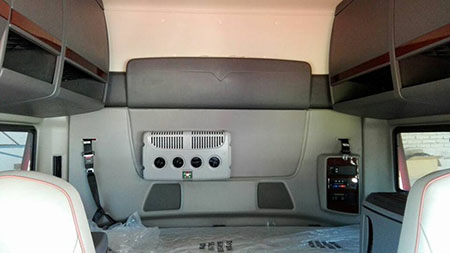 * Alias has been used in the news for commercial secret protection.
You are also welcome to Corunclima on Facebook & Google+!
Zhengzhou Corun. Tech. Co. Ltd., & Corunclima
With nearly 20 yrs' exp. in R&D and manufacture in transport refrigeration unit and all-electric air conditioner, Corunclima gradually evolves from manufacturer to professional consultant of eco-friendly, cost-effective, customizable transport cooling solution.