Reliable Large Cooling Capacity Diesel Engine Driven Refrigeration Unit D1200
Author:Corun Date:2023/05/26
Do you know about diesel self-powered engine driven refrigeration unit? Start your transport journey with the Corunclima D1200 diesel self-power engine driven refrigeration unit for 50-60m³ Trucks.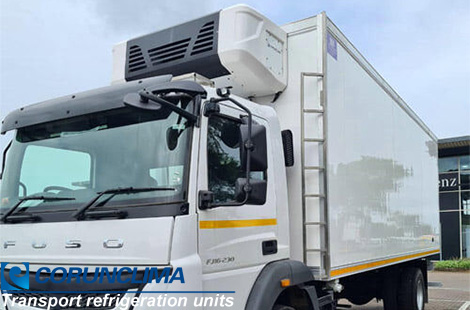 This self-power engine's high-capacity cooling can help your fleet avoid the impact of a breakdown on road, keeping cargo safety.
When you are looking for truck refrigeration unit, you can check our D1200 diesel engine driven refrigeration unit, independent working engine, high power refrigeration efficiency, low maintenance cost. No matter where you are on the road, you can keep the cold out and make sure your haul ends flawlessly.
Our cooling technology is a sustainable solution that offers unrivaled performance in terms of temperature maintenance and operating costs.
Our refrigerating unit has completed the advanced gravity balance design, and the balance of the body has been tested and designed repeatedly, which will not cause damage to the heat-insulated body panel and reduce the risk of damage to the body panel due to excessive weight.
Over the years, Corunclima transport refrigeration units have gradually gone from green to mature. Corunclima is able to recognize and meet the opportunities and challenges of refrigeration and freezing solutions in the global market. Corunclima focuses on building a refrigeration product R&D team with multi-level and multi-field needs. More and more fleets and dealers choose Corunclima.
So far, we have set up warehouse in South Africa. With more and more projects running in many countries for Corunclima transport cooling units, we are always to hear good feedback and very prop to see our partners becoming more and more successful.
In our company, we put customer satisfaction first, and we are always ready to provide you with innovative, flexible and efficient refrigerated logistics solutions.
We are confident that our professional knowledge and capabilities will bring great value to our customers, and we look forward to working with more partners to achieve mutual success. info@corunclima.com.
TAG:&nbsp&nbspdiesel engine driven refrigeration unit