Corunclima's Monterrey Expo Was Ended Successfully in Mexico
Author:Corun Date:2023/05/23
The three-day Monterrey Expo in Mexico has come to a successful close. Thanks for your visit and support to Corunclima team. We are excited to connect with all of you and presented our highly efficient and sustainable refrigeration products during these days.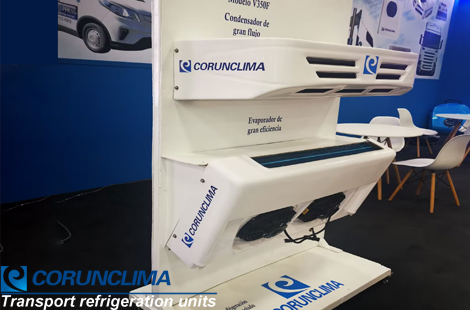 We have been making it our mission for over 20 years to advance the cold chain transport through our temperature-controlled operations and sustainability initiatives. We deliver peace of mind to our customers by ensuring temperature-sensitive goods make it to their destinations safely and efficiently. At here, we're committed to building strong partnerships with our clients and providing them with exceptional customer solutions.
When it comes to refrigerated transport, we are shaping the industry with our innovative solutions. The flexible design and fuel-saving benefits of our transport refrigeration units allow you to balance price and performance to best meet your requirements. Whatever refrigeration units you need, whenever you need them and however long you need them for, we have the know-how, diversity options to fulfil your cooling requirements.
Our temperature control solutions improve quality and safety through every step of the way, from point of origin to the final consumer. You can count on us with our expertise and highest quality control. No matter you need a freezer or chiller unit anywhere, we've got you covered! From long distance to the last mile, we have been ensuring that businesses can deliver their sensitive perishables on time, every time.
If you are looking for a high efficiency, convenient, economical, and reliable truck refrigeration system, Corunclima is your good choice! Whether you're looking to improve the performance of your fleet or simply curious about the latest innovations in transport refrigeration technology, our team will be on hand to answer your questions and provide personalized recommendations.
Please feel free to contact us info@corunclima.com if you have any needs in the following time or you can check out more about our refrigeration solutions at: https://www.corunclima.com/products/Transport-Refrigeration-Unit_1.html.
TAG:&nbsp&nbsptransport refrigeration units