What can all electric Chiller C450FB do for 12-14m³ light trucks?
Author:Corun Date:2022/10/28
The all-electric refrigeration unit C450FB is specially designed and built by our company for light 12-14 m³trucks. It's 100% DC battery driven, cooling capacity is 4500W (-5℃). And there are 12v and 24v DC voltage options.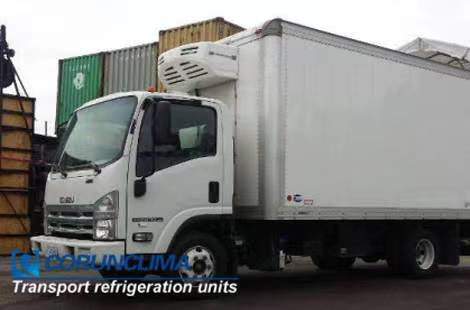 Maybe you don't have a deeper understanding of why you should choose our products just from these dates. Many customers have the same doubts before using our products. It doesn't matter, I will enthusiastically introduce to you, what can the all-electric refrigeration unit C450FB do for your light truck? I believe that after learning about it, you will may regret why you didn't know about our products earlier, just like our old customers.
1. The condenser: it adopts the front installation, and the lightweight design reduces the burden on the vehicle. Fiberglass shell is more stable. The interior adopts anti-corrosion materials, which makes the life longer.
2. The evaporator: after continuous research and development, the evaporator is thinner, and easier to install, and takes up less space. In this way, there can be more cargo space inside the cabin.
3. The operation: there is a voltage valve, when the voltage is lower or higher than the rated value, it will be automatically disconnected so that can ensure the safety of the vehicle and driver.
4. The quality: product components and technology, we all use the top quality. We do our best to match the best products with lower prices, and strive for price benefits for our customers.
5. The usage, due to use the all-electric to drive, no need the engine, so there are some advantages that traditional refrigeration units cannot achieve, such as: fuel saving, no noise, normally cooling even when parking, meeting the require of last mile delivery and night delivery.
These excellent qualities are the reasons why customers choose us. Our products have achieved mass sales and successful operation in the United States, Canada, Mexico, Australia, and South Africa, with a cumulative sales of more than 5,000 units. Our Canadian R&D team ensures the development speed of our new products and leads the technology of all electric refrigeration units.
We look forward to partnering with companies or individuals who interested in our products, and if you wish, we can help you open up a new market locally. We are very willing to build a nice business relationship with you, to know more please contact us: info@corunclima.com.
TAG:&nbsp&nbspall-electric refrigerating unit