Corunclima All Electric Refrigeration Unit C150TB Installed In Northern Cape
Author:Corun Date:2022/08/10
Recently,Corunclima full DC12V electric refrigeration system C150TB was installed in the Northern Cape,South Africa.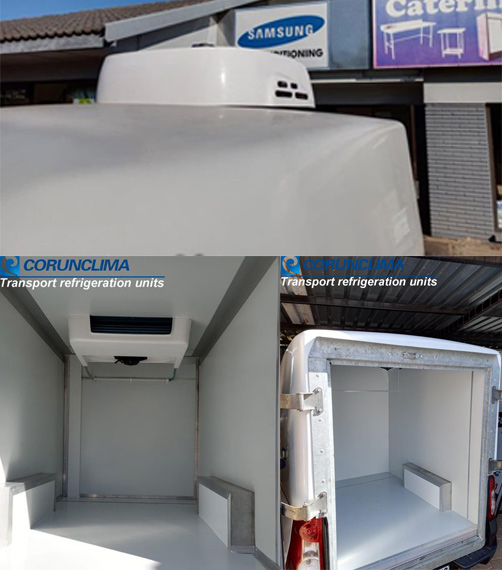 This 100% electric refrigeration solution is the most sustainable choice for last-mile fresh and frozen delivery.It can work not only for electric vans, but also for engine vans, pickups, small size vehicles.When vehicles move, the unit works by battery. When vehicles park, the unit keeps working by 110V or 220V plug-in electric power,never feed by vehicles engine.This model offers great convenience while engine-off loading&uploading goods,and the fast cooling speed meets for door open&close frequently.
Driven by batteries directly, our unit brings more benefits for your refrigerated transport:
Less fuel consumption,reduce operating cost.
Less power release,no need change to bigger alternator.
Fast cooling speed, cooling to -5℃ within 40 minutes.
No need to do vehicle modifications, but keep the temperature on idle.
Aiming to reduce emission&noise, save fuel, lower maintenance cost,Corunclima is constantly innovating to deliver our customers the optimum temperature maintenance of your products till the last mile delivery.So far, we've installed and approved by most popular brands such as LDV e-delivery 3, BYD T3, Nissan e-NV200, VW caddy etc in European, South-Africa, Mexico, South-America countries.We pride ourselves on building high-quality all-electric cooling systems for different kinds of pure electric and engine driven vehicles,and we are always trying to understand our customers better and extending diverse ways of cooperation to suit your requirements.
As your trusted partner, Corunclima always insisted on bringing quality and durable electric cooling systems which focus on customer's satisfaction.At here, we ensure that our solutions are tried, tested and backed hundreds of times by our experts before delivery.After 14 years of hard working, we've obtained European CE, ATP, Emark and other certifications, as well as ISO9001 quality control system and AAA credit rating.We are leader specialist in DC electric refrigeration system, and we own the real technology and full solutions.
We are very glad to see that more and more Corunclima installed vehicles on the road. We are not just a supplier, we look forward to being your most sincere partner. We will not only provide the highest quality products, and also provide the best comprehensive services.
Corunclima is very willing to build a nice business relationship with all the partners,welcome to the further communications at info@corunclima.com.
TAG:&nbsp&nbspdc electric refrigeration unit