Corunclima Electric Air Conditioner T20B Was Installed In Botswana
Author:Corun Date:2022/08/02
Corunclima electric air conditioner T20B was installed as a sample in a cabinet to show his customers by our partner in Botswana.
Through the feedback,we can learn that our unit shows 100% working efficiency and the cooling performance far exceeds all the customers' expectation.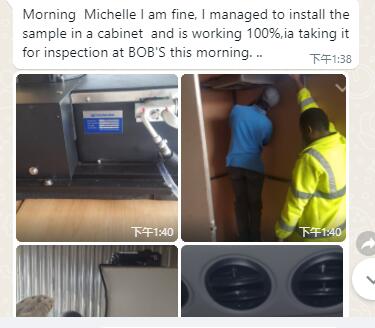 Corunclima 100% DC battery air conditioner T20B suits all yellow equipment cabs including crane, grader, loader, dozer, forklift, excavator,tractor,utv and other heavy duty off-road vehicles.
There are several reasons why customers prefer to choose it.
Firstly,it is monoblock type,save space,save time,easy to install.Just two people will finish the installation within 30 minutes.
Secondly,750m³/hour evaporator air flow makes drivers feel cooling in 10 minutes. 8500BTU cooling capacity will satisfy all kinds of driving cabs regardless of the vehicle type.
Thirdly,the ac unit can offer sustainable cooling no matter under engine on or off.With the fuel price rise rapidly,all electric has become a consensus for various fleets.Driven by battery directly.Our A/C will help you save a large sum of money on fuel consumption.
At last,without relying on the engine, this model can save you 20%-25% on air conditioning maintenance,which means you will get less downtime and more reliability. Since these years,we have expanded partner cooperation in many mining plants in South-Africa, Namibia, and OEM partner cooperation in many armoured vehicles factory in Mid-east countries. As it turns out,even in these high temperature and high humidity surroundings,our ac units still work very well and the durable quality has extended its life up to 10 years long.
We have warehouse in Johannesburg SA, we can provide you products and services at anytime.
If you want to find an air conditioner that greatly save your time, energy, and money,pls send inquiry to info@corunclima.com
TAG:&nbsp&nbspDC battery air conditioner