The Description Of Corunclima Engine Driven Transport Refrigeration Unit V450F
Author:Corun Date:2022/07/27
Corunclima front mounted truck refrigerator unit V450F is the best solution for trucks such as Hyundai H200, Hino 300, Isuzu, Fuso etc.It is suitable for light truck with container size of 12-14m³.
This unit has 2 condenser fans and 3 evaporator blowers,and the cooling capacity has been improved to 2610W/8920Btu,which makes it cooling down to -20℃ only within short time.We have installed many cases in Chile, Japan, Mexico, Australia, Malaysia etc.The durable quality and fully services have been recognized by the local customers from different countries.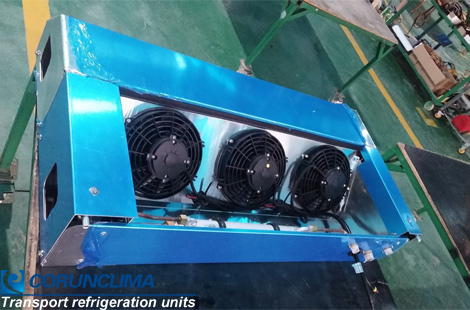 Freezer model V450F is one of the most popular models on the market.Strong, durable, fast cooling and corrosion resistance,all of these features make it perform very well even in high temperature and high humidity areas.
Now,let's introduce some details about our qualified spare parts on this unit.
Firstly,the condenser shell.For some suppliers,maybe their units have one inclusion which extend a working life only 3-4 years,but we are double anti-corrosion,our lifespan can reach up to 10 years.If you have used,you may find that it can greatly save your repair cost and after service.
Secondly,we adopt original QP compressor/TM compressor and Danfoss brand TX valve,Solenoid valve or CPR valve.
Thirdly, the two big condenser fans.China top brand bigger fans with higher air volume,more than 5000 working hours big air volume,more than 700M³ per hour, very suitable for humidity climates in South africa and Middle East.
Last but not least, we have three evaporator fans.Our evaporators were made of copper tube and alluminium fins,all of these are famous brand in the world.So we can provide the good quality refrigeration units for you.
Model No.

Freezer

V450F

Driven

Engine driven

Temperature

-20℃

Voltage

12V/24V

Cooling Capacity

2610W (-20℃)

Refrigerant Gas

R404A

Condenser

Size (MM)

1050*380*560

Weight(KG)

41

Fan Qty

2

Evaporator

Size (MM)

1198*570*160

Weight(KG)

28

Fan Qty

3
Besides, Corunclima offers additional electrical standby for you to choose.The AC220V/AC380V standby system built-in condenser can be customized according to the local requirements of different partners, helping you solve the cooling problem during truck parking.
We provide one-stop solution and service for your refrigerated trucks which can help you save much time and cost. Today,choosing Corunclima to cooperate, tomorrow you will receive more projects and more clients trust, we are looking for partners in the world market,if you are interested,please feel free to contact info@corunclima.com.
TAG:&nbsp&nbsptransport refrigeration units