50 Sets Electric Refrigeration System Are Ready To Be Loaded
Author:Corun Date:2022/07/20
50 Sets Full DC12V and DC24V Electric Refrigeration system C450FB are ready and will be loaded to our customer.

Model C450FB is a kind of 100% DC electric cooling system, applicable for class 6 electric truck and fresh delivery. It can used on BYD T5 truck, JAC E-X350, Foton Aumark S3-EV etc full electric trucks whose box size ranges from 12 to 18 cub meters.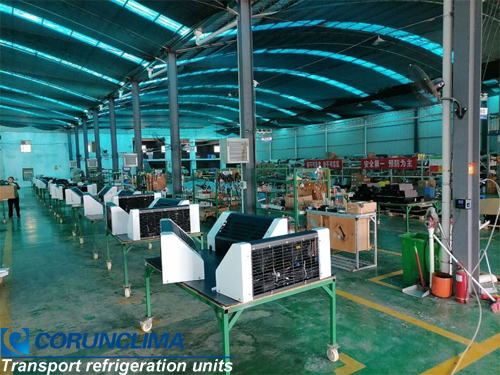 Driven by the vehicle's battery or auxiliary battery pack, there is no need to install a road compressor and drive kit in the engine compartment, this means your refrigerated truck can operate its original AC system.Not reduce drive miles,no modification on the EV original batteries,and the optional heating system can keep your temperature same whatever in hot summer or in cold winter.
We have been applied and tested in large amounts in North America. For 12-14m³ container, mobile or stationary, truck or trailer,the cooling performance has been proven under all-weather operating environment and relative eco-protection act.Till now, this model has already installed on Sprinter, ISUZU, Hino, Dongfeng, etc full electric trucks and engine trucks.
As a fuel saving and environment friendly small truck refrigeration unit, DC electric unit will be the trend of the global refrigeration market.
Benefits
1. Full DC12V or DC24V Electrical, are available.
2. Lower power consumption and higher cooling capacity 4500W (-5℃).
3. Full cooling at anytime.
4. Less maintenance and less cost.
5. Save fuel for engine-off when load/unload goods.
Corunclima started to design, test and produce full DC electric refrigeration units for each cargovans and truck cabins since 2008. During the past 14 years,we were committed to producing full electric cooling systems for fresh and frozen transportation, and we've obtained European CE, ATP, Emark and other certifications, as well as ISO9001 quality control system and AAA credit rating. The stable quality and professional support have helped more and more partners to achieve greater success,and were glad to witness more and more Corunclima installed vehicles on the road.
Now we are seeking for Partners/Dealers worldwide,if you are interested in our products or want to be our dealer, please feel free to contact us. info@corunclima.com.We can provide the most suitable solution that cater to your local customers' requirements.
TAG:&nbsp&nbspdc electric refrigeration unit