Corunclima Full Electric Air Conditioner Installed In Chile
Author:Corun Date:2022/07/04
Recently, our Corunclima full electric air conditioner are installed on the mining equipments in Chile by our partner.
Even in the dusty and bumpy working environment around the mining site, our a/c units are working excellently.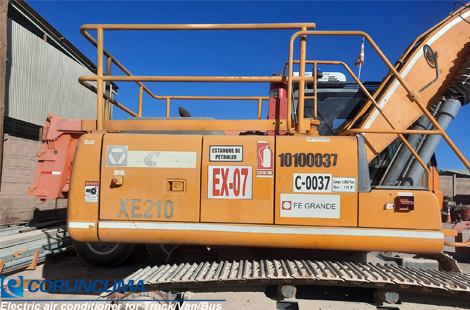 Corunclima DC powered air conditioner model T20B is driven by DC12V DC24V original batteries or auxiliary battery bank,and all the system (Compressor, Fan, Blower etc.) are DC12V / DC24V electrical.No need to install engine driven compressor, all the job is just on the roof of the cab.
It can be widely used on all types heavy-duty vehicles, mining equipment, construction machinery, earth-moving machine, farming machinery, fleeting trucks, fire trucks, etc.
All parts are integrated into 1 monoblock, you will never touch the unnecessary parts at all, no risk of breaking any other parts. Besides, the compressor is built in, there is no need to find bracket or space for it at all. It is easy to fit, no noise, zero emission, and we have already gassed the ac unit before leaving the factory, no need gassing at all.
Corunclima battery air conditioner is one of the best solutions to replace original vehicle air conditioners.
If you have fitted some engine driven normal aircon, you must have experience of below:
Broke the fins of the condenser or fitting by accident.
Can't find a space to install the compressor.
Taking a lot of time to align the belt/pully between the engine and the compressor.
Finding a space for the receiver.
Vacuuming, leaking test, gassing, all the pipeline job.
The original aircon of those machineries are easily damaged after working for several months, it is always very expensive to get the parts of original A/C, so most customers tend to replace the whole aircon with a brand new DC aircon, as its installation is easier, no need to remove their original decoration,save fuel and reduce maintenance cost.
Compared with other brands aircons, our aircons are robust,durable, anti-vibration.We have been widely used in mining equipment and construction machines in Africa,we are especially suitable for various harsh environments, and till now the feedback is always good.
Corunclima has been designing and producing DC air-conditioning and DC refrigeration solutions since 2006. We have real technology and can customize suitable solutions for different electric vehicles, no matter what voltage the vehicle is.
Dealer wanted. ODM/OEM is available.
TAG:&nbsp&nbspfull electric air conditioner