An 20ft Container Transport Refrigeration Units Is Loaded And Delivered To Middle East
Author:Corun Date:2022/06/28
Another 20ft container of transport refrigeration units is loaded and on its way to Middle East country, including chillers and freezers and diesel engine units.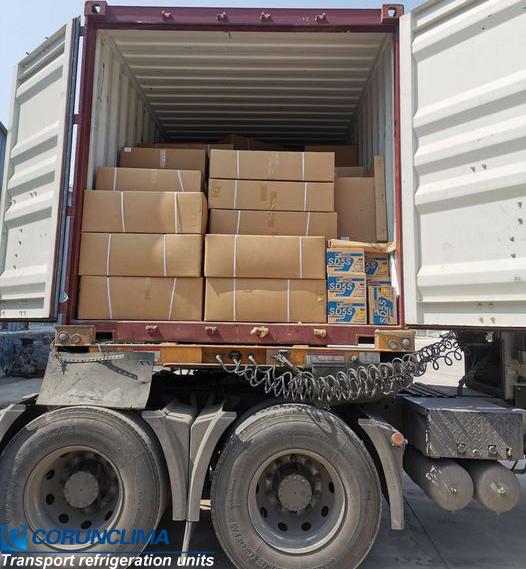 Corunclima truck refrigeration system can be used for different brands of trucks chassis, Japanese, Chinese or Korean trucks. With 10-years durable quality, fast cooling speed, lower operating cost and strong versatility of parts coupled with years of market verification, our units have won more and more long-term trust from partners.
As a reliable manufacturer of truck refrigeration units, Corunclima provides key parts with good quality.
1. For expansion valve, solenoid valve, and CPR valve, all of them are using European Danfoss brand.
2. For condenser fan and evaporator blower, life time is around 5000 hours, around 2-3 years.
3. For compressors, we provide Valeo, QP(same with Thermoking) and Sanden compressors, all is original compressor, not copied.
4. We do all details carefully, including the package. Secure package way can make sure the units are being shipped safely.
Covid-19 has been here for more than 2 years, we can see the changes in the world. As the development of economy, the requirements for refrigerated trucks is getting raised a lot, more and more companies are starting to invest into the business of refrigerated trucks.During the fierce competition, companies who can provide one-stop service( including your own refrigeration system and your own bodies) to customers will eventually win the projects. If you are a truck body builder or truck dealer, and you are facing the circumstance of orders flowing to other companies, it is the time for you to make some change. Sometimes when you are still hesitating, other companies have seen the opportunity and made profits.
As a leader manufacturer who has 19 years experience in truck refrigeration units, Corunclima can be your trusted refrigeration solutions provider to help you expand your business and customer base. We have lead a way for innovative, efficient and cost-effective cold chain transportation. We can provide expert advice and efficient solutions&operations that are satisfied with every customer – whatever the need is, we can provide it. Besides,We know our cooperation partners very well, we not only provide partners qualified products, but also the whole solution.Till now, we have helped more and more fleets expand the sales and consolidate their market place.
From full truck to home delivery solutions, Corunclima thoroughly understands the needs and challenges in cooling transportation, and that is why we can always introduced superior refrigeration units to all our international partners and clients. No matter for logistics companies and food factories, our cooling unit range is a sure-fire good choice for majority of refrigerated truck owners and end-users.
If you are looking for a solution to increase sales and profit, let's discuss more to explore the market possibilities together.
TAG:&nbsp&nbsptransport refrigeration units